Spooky season enthusiasts…it is our time!
In addition to the general spook and gloom that October automatically brings, you know what's also scary? The size of our TBR. And that's not going to change anytime soon!
This month, if you're a fantasy fanatic, Jade Fire Gold is a MUST-READ, and when we say there's a slow-burn romance…we really do mean slow-burn (us, we're the ones burning). For contemporary enthusiasts, Everything Within and In Between will make you feel alllll the emotions! If you're a fan of contemporary with a hint of fantasy, Squad is a graphic novel that you'll simply devour (sorry not sorry for the werewolf pun).
And that's just only some of the books out this month—happy trick-or-reading, book nerds!
The 18 Best New YA Books of October
GET YOUR SHELVES READY
1. Jade Fire Gold by June CL Tan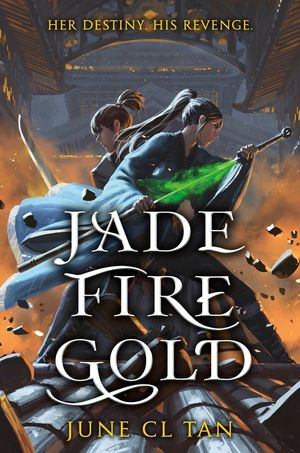 Girls of Paper and Fire meets A Song of Wraiths and Ruin in June CL Tan's stunning debut, where ferocious action, shadowy intrigue, rich magic, and a captivating slow-burn romance collide.
In an empire on the brink of war . . .
Ahn is no one, with no past and no family.
Altan is a lost heir, his future stolen away as a child.
When they meet, Altan sees in Ahn a path to reclaiming the throne. Ahn sees a way to finally unlock her past and understand her lethal magical abilities.
But they may have to pay a far deadlier price than either could have imagined.
2. Kingdom of the Cursed by Kerri Maniscalo
From #1 New York Times bestselling author of Stalking Jack the Ripper Kerri Maniscalco comes the sizzling, sweepingly romantic sequel to Kingdom of the Wicked!
One sister.
Two sinful princes.
Infinite deception with a side of revenge…Welcome to Hell.
After selling her soul to become Queen of the Wicked, Emilia travels to the Seven Circles with the enigmatic Prince of Wrath, where she's introduced to a seductive world of vice.
She vows to do whatever it takes to avenge her beloved sister, Vittoria…even if that means accepting the hand of the Prince of Pride, the king of demons.
The first rule in the court of the Wicked? Trust no one. With back-stabbing princes, luxurious palaces, mysterious party invitations, and conflicting clues about who really killed her twin, Emilia finds herself more alone than ever before. Can she even trust Wrath, her one-time ally in the mortal world…or is he keeping dangerous secrets about his true nature?
Emilia will be tested in every way as she seeks a series of magical objects that will unlock the clues of her past and the answers she craves…
3. Aristotle and Dante Dive into the Waters of the World by Benjamin Alire Sáenz
📚 This is the sequel to: Aristotle and Dante Discover the Secrets of the Universe
The highly anticipated sequel to the critically acclaimed, multiple award-winning novel Aristotle and Dante Discover the Secrets of the Universe is an achingly romantic, tender tale sure to captivate fans of Adam Silvera and Mary H.K. Choi.
In Aristotle and Dante Discover the Secrets of the Universe, two boys in a border town fell in love. Now, they must discover what it means to stay in love and build a relationship in a world that seems to challenge their very existence.
Ari has spent all of high school burying who he really is, staying silent and invisible. He expected his senior year to be the same. But something in him cracked open when he fell in love with Dante, and he can't go back. Suddenly he finds himself reaching out to new friends, standing up to bullies of all kinds, and making his voice heard. And, always, there is Dante, dreamy, witty Dante, who can get on Ari's nerves and fill him with desire all at once.
The boys are determined to forge a path for themselves in a world that doesn't understand them. But when Ari is faced with a shocking loss, he'll have to fight like never before to create a life that is truthfully, joyfully his own.
4. Squad by Maggie Tokuda-Hall, illustrated by Lisa Sterle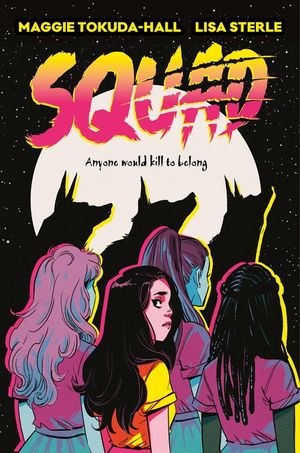 Pretty Little Liars meets Teen Wolf in this sharply funny, and patriarchy-smashing graphic novel from author Maggie Tokuda-Hall and artist Lisa Sterle. When the new girl is invited to join her high school's most popular clique, she can't believe her luck—and she can't believe their secret, either.
When Becca transfers to a high school in an elite San Francisco suburb, she's worried she's not going to fit in. To her surprise, she's immediately adopted by the most popular girls in school. At first glance, Marley, Arianna, and Mandy are perfect. But at a party under a full moon, Becca learns that they also have a big secret.
Becca's new friends are werewolves. Their prey? Slimy boys who take advantage of unsuspecting girls. Eager to be accepted, Becca allows her friends to turn her into a werewolf, and finally, for the first time in her life, she feels like she truly belongs.
But then things get complicated. As their pack begins to buckle under the pressure, their moral high ground gets muddier and muddier—and Becca realizes that she might have feelings for one of her new best friends.
5. Black Birds in the Sky by Brandy Colbert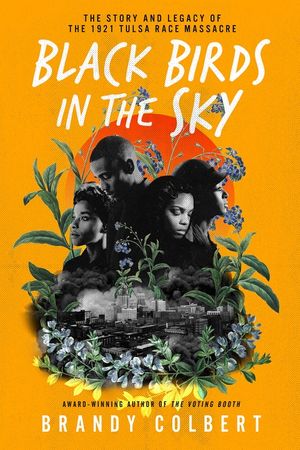 A searing new work of nonfiction from award-winning author Brandy Colbert about the history and legacy of one of the most deadly and destructive acts of racial violence in American history: the Tulsa Race Massacre.
In the early morning of June 1, 1921, a white mob marched across the train tracks in Tulsa, Oklahoma, and into its predominantly Black Greenwood District—a thriving, affluent neighborhood known as America's Black Wall Street. They brought with them firearms, gasoline, and explosives.
In a few short hours, they'd razed thirty-five square blocks to the ground, leaving hundreds dead. The Tulsa Race Massacre is one of the most devastating acts of racial violence in US history. But how did it come to pass? What exactly happened? And why are the events unknown to so many of us today?
These are the questions that award-winning author Brandy Colbert seeks to answer in this unflinching nonfiction account of the Tulsa Race Massacre. In examining the tension that was brought to a boil by many factors—white resentment of Black economic and political advancement, the resurgence of white supremacist groups, the tone and perspective of the media, and more—a portrait is drawn of an event singular in its devastation, but not in its kind. It is part of a legacy of white violence that can be traced from our country's earliest days through Reconstruction, the Civil Rights movement in the mid–twentieth century, and the fight for justice and accountability Black Americans still face today.
The Tulsa Race Massacre has long failed to fit into the story Americans like to tell themselves about the history of their country. This book, ambitious and intimate in turn, explores the ways in which the story of the Tulsa Race Massacre is the story of America—and by showing us who we are, points to a way forward.
6. Everything Within and In Between by Nikki Barthelmess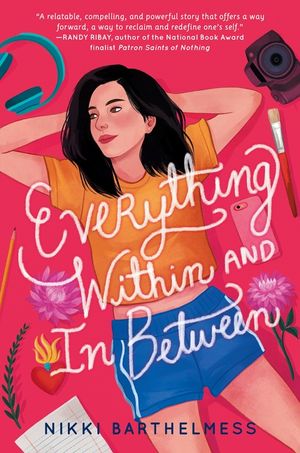 Color Me In meets I Am Not Your Perfect Mexican Daughter in Everything Within and In Between, a deeply honest coming-of-age story about reclaiming a heritage buried under assimilation, the bonds within families, and defining who you are for yourself.
For Ri Fernández's entire life, she's been told, "We live in America and we speak English." Raised by her strict Mexican grandma, Ri has never been allowed to learn Spanish.
What's more, her grandma has pulled Ri away from the community where they once belonged. In its place, Ri has grown up trying to fit in among her best friend's world of mansions and country clubs in an attempt try to live out her grandmother's version of the "American Dream."
In her heart, Ri has always believed that her mother, who disappeared when Ri was young, would accept her exactly how she is and not try to turn her into someone she's never wanted to be. So when Ri finds a long-hidden letter from her mom begging for a visit, she decides to reclaim what Grandma kept from her: her heritage and her mom.
But nothing goes as planned. Her mom isn't who Ri imagined she would be and finding her doesn't make Ri's struggle to navigate the interweaving threads of her mixed heritage any less complicated. Nobody has any idea of who Ri really is—not even Ri herself.
7. Little Thieves by Margaret Owen
Once upon a time, there was a horrible girl…
Vanja Schmidt knows that no gift is freely given, not even a mother's love–and she's on the hook for one hell of a debt. Vanja, the adopted goddaughter of Death and Fortune, was Princess Gisele's dutiful servant up until a year ago. That was when Vanja's otherworldly mothers demanded a terrible price for their care, and Vanja decided to steal her future back… by stealing Gisele's life for herself.
The real Gisele is left a penniless nobody while Vanja uses an enchanted string of pearls to take her place. Now, Vanja leads a lonely but lucrative double life as princess and jewel thief, charming nobility while emptying their coffers to fund her great escape. Then, one heist away from freedom, Vanja crosses the wrong god and is cursed to an untimely end: turning into jewels, stone by stone, for her greed.
Vanja has just two weeks to figure out how to break her curse and make her getaway. And with a feral guardian half-god, Gisele's sinister fiancé, and an overeager junior detective on Vanja's tail, she'll have to pull the biggest grift yet to save her own life.
8. The Keeper of Night by Kylie Lee Baker
Death is her destiny.
Half British Reaper, half Japanese Shinigami, Ren Scarborough has been collecting souls in the London streets for centuries. Expected to obey the harsh hierarchy of the Reapers who despise her, Ren conceals her emotions and avoids her tormentors as best she can.
When her failure to control her Shinigami abilities drives Ren out of London, she flees to Japan to seek the acceptance she's never gotten from her fellow Reapers. Accompanied by her younger brother, the only being on earth to care for her, Ren enters the Japanese underworld to serve the Goddess of Death… only to learn that here, too, she must prove herself worthy. Determined to earn respect, Ren accepts an impossible task—find and eliminate three dangerous Yokai demons—and learns how far she'll go to claim her place at Death's side.
9. The Gilded Cage by Lynette Noni
Kiva Meridan is a survivor.
She survived not only Zalindov prison, but also the deadly Trial by Ordeal. Now Kiva's purpose goes beyond survival to vengeance. For the past ten years, her only goal was to reunite with her family and destroy the people responsible for ruining their lives. But now that she has escaped Zalindov, her mission has become more complicated than ever.
As Kiva settles into her new life in the capital, she discovers she wasn't the only one who suffered while she was in Zalindov—her siblings and their beliefs have changed too. Soon it's not just her enemies she's keeping secrets from, but her own family as well.
Outside the city walls, tensions are brewing from the rebels, along with whispers of a growing threat from the northern kingdoms. Kiva's allegiances are more important than ever, but she's beginning to question where they truly lie. To survive this time, she'll have to navigate a complicated web of lies before both sides of the battle turn against her and she loses everything.
10. Thronebreakers by Rebecca Coffindaffer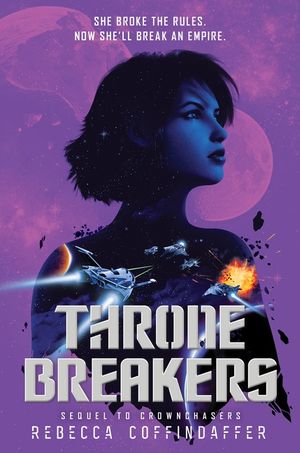 📚 This is the sequel to: Crownchasers
Perfect for fans of Aurora Rising, The Hunger Games, and Three Dark Crowns, this electrifying duology closer is jam-packed with tension and thrills that will hook readers from its first page.
Alyssa Farshot never wanted to rule the empire. But to honor her uncle's dying wish, she participated in the crownchase, a race across the empire's 1,001 planets to find the royal seal and win the throne. Alyssa tried to help her friend, Coy, win the crownchase, but just as victory was within their grasp, Edgar Voles killed Coy—and claimed the seal for himself.
Broken-hearted over her friend's death, Alyssa is hell-bent on revenge. But Edgar is well protected in the kingship. Alyssa will have to rally rivals, friends, and foes from across the empire to take him down and change the course of the galaxy.
11. Any Sign of Life by Rae Carson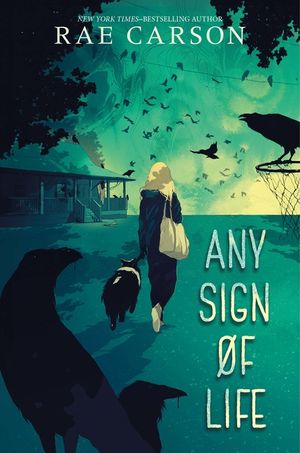 When a teenage girl thinks she may be the only person left alive in her town—maybe in the whole world—she must rely on hope, trust, and her own resilience. A harrowing and pulse-pounding survival story from New York Times–bestselling author Rae Carson. Any Sign of Life is a must-have for readers of Rick Yancey's The 5th Wave and Neal Shusterman and Jarrod Shusterman's Dry.
Paige Miller is determined to take her basketball team to the state championship, maybe even beyond. But as March Madness heats up, Paige falls deathly ill. Days later, she wakes up attached to an IV and learns that the whole world has perished. Everyone she loves, and all of her dreams for the future—they're gone.
But Paige is a warrior. She pushes through her fear and her grief and gets through each day scrounging for food, for shelter, for safety. As she struggles with her new reality, Paige learns that the apocalypse did not happen by accident. And that there are worse things than being alone.
12. Vespertine by Margaret Rogerson
The dead of Loraille do not rest.
Artemisia is training to be a Gray Sister, a nun who cleanses the bodies of the deceased so that their souls can pass on; otherwise, they will rise as spirits with a ravenous hunger for the living. She would rather deal with the dead than the living, who trade whispers about her scarred hands and troubled past.
When her convent is attacked by possessed soldiers, Artemisia defends it by awakening an ancient spirit bound to a saint's relic. It is a revenant, a malevolent being that threatens to possess her the moment she drops her guard. Wielding its extraordinary power almost consumes her—but death has come to Loraille, and only a vespertine, a priestess trained to wield a high relic, has any chance of stopping it. With all knowledge of vespertines lost to time, Artemisia turns to the last remaining expert for help: the revenant itself.
As she unravels a sinister mystery of saints, secrets, and dark magic, her bond with the revenant grows. And when a hidden evil begins to surface, she discovers that facing this enemy might require her to betray everything she has been taught to believe—if the revenant doesn't betray her first.
13. City of Shattered Light by Claire Winn
As darkness closes in on the city of shattered light, an heiress and an outlaw must decide whether to fend for themselves or fight for each other.
As heiress to a powerful tech empire, seventeen-year-old Asa Almeida strives to prove she's more than her manipulative father's shadow. But when he uploads her rebellious sister's mind to an experimental brain, Asa will do anything to save her sister from reprogramming—including fleeing her predetermined future with her sister's digitized mind in tow. With a bounty on her head and a rogue A.I. hunting her, Asa's getaway ship crash-lands in the worst possible place: the neon-drenched outlaw paradise, Requiem.
Gun-slinging smuggler Riven Hawthorne is determined to claw her way up Requiem's underworld hierarchy. A runaway rich girl is exactly the bounty Riven needs—until a nasty computer virus spreads in Asa's wake, causing a citywide blackout and tech quarantine. To get the payout for Asa and save Requiem from the monster in its circuits, Riven must team up with her captive.
Riven breaks skulls the way Asa breaks circuits, but their opponent is unlike anything they've ever seen. The A.I. exploits the girls' darkest memories and deepest secrets, threatening to shatter the fragile alliance they're both depending on. As one of Requiem's 154-hour nights grows darker, the girls must decide whether to fend for themselves or fight for each other before Riven's city and Asa's sister are snuffed out forever.
14. The City Beautiful by Aden Polydoros
Death lurks around every corner in this unforgettable Jewish historical fantasy about a city, a boy, and the shadows of the past that bind them both together.  
Chicago, 1893. For Alter Rosen, this is the land of opportunity, and he dreams of the day he'll have enough money to bring his mother and sisters to America, freeing them from the oppression they face in his native Romania.
But when Alter's best friend, Yakov, becomes the latest victim in a long line of murdered Jewish boys, his dream begins to slip away. While the rest of the city is busy celebrating the World's Fair, Alter is now living a nightmare: possessed by Yakov's dybbuk, he is plunged into a world of corruption and deceit, and thrown back into the arms of a dangerous boy from his past. A boy who means more to Alter than anyone knows.
Now, with only days to spare until the dybbuk takes over Alter's body completely, the two boys must race to track down the killer—before the killer claims them next.
15. Our Way Back to Always by Nina Moreno
Luisa (Lou) Patterson grew up across the street from Sam Alvarez in the small, quirky town of Port Coral. They used to be inseparable–spending every holiday together, shooting silly YouTube videos, and rescuing stray cats. But then middle school happened, including the most disastrous (and embarrassing) serenade ever, and Lou and Sam haven't talked in the four years since. Sam is now the golden boy with plenty of friends, while Lou is an introverted romantic who's happy playing video games and writing fan fiction. But it's also the summer before their senior year, and life is knocking on Lou's door.
With her older sister having given up a scholarship to Princeton to have a baby and work at the local botanica, all of their mother's expectations are now riding on Lou's shoulders. She's retaking her SAT's, signed up for way too many AP classes, and her sights set on colleges with fancy names like Duke and Vanderbilt. But when she finds the bucket list she and Sam wrote together as kids, before Sam's father was diagnosed with cancer, she's shocked to see that she hasn't accomplished any of the goals she'd set for herself. Go to a party? Nope. Pull the greatest prank of all time? Still no. Learn how to be a really good kisser? Definitely not.
Torn between the future that her mother, sister, and younger self planned for her, Lou sets out to finish the list, and in a stroke of destiny or fate, Sam decides to tag along. Still trying to stay afloat amid the grief of losing his father, Sam himself is staring down a future that feels all too close, and is coming far too fast. But with the bucket list to guide them, Sam and Lou might just be able to find a way through the future, and also a way back to each other.
16. The Color of Dragons by R. A. Salvatore and Erika Lewis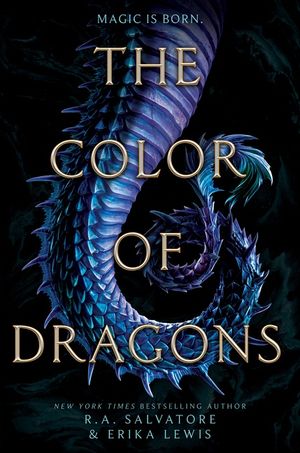 Powerhouse adult fantasy author R. A. Salvatore and Erika Lewis deliver a sweeping, action-packed, romantic pre-Arthurian tale of the origins of magic (and Merlin), perfect for fans of Falling Kingdoms and Seraphina.
Magic needs a spark.
And Maggie's powers are especially fickle. With no one to help her learn to control her magic, the life debt that she owes stretches eternally over her head, with no way to repay it.
Until she meets Griffin, the king's champion, infamous for hunting down the draignochs that plague their kingdom.
Neither has any idea of the destiny that they both carry, or that their meeting will set off a chain of events that will alter every aspect of the life they know—and all of history thereafter.
This epic, romantic tale will enchant readers and draw them into a thrilling world of star-crossed lovers, magic, destiny, and the paths we choose.
17. When Night Breaks by Janella Angeles
📚 This is the sequel to: Where Dreams Descend
The competition has come to a disastrous end, and Daron Demarco's fall from grace is now front page news. But little matters to him beyond Kallia, the contestant he fell for who is now lost to this world and in the hands of a dangerous magician. Daron is willing to do whatever it takes to find her. Even if it means embarking on a dark and treacherous journey, risking more than just his life, with no promise of return.
After awaking in darkness, Kallia has never felt more lost. Especially with Jack by her side, the magician with who has the answers but cannot be trusted. Together, they must navigate a dazzling world where mirrors show memories and illusions shadow every corner, one ruled by a powerful game master who could all too easily destroy the world she left behind — and the boy she can't seem to forget. With time running out, Kallia must embrace her role in a darker destiny, or lose everyone she loves, forever.
18. Where There's a Whisk by Sarah J. Schmitt
Life is what you bake it.
Peyton Sinclaire wants nothing more than to escape her life as a diner waitress in her small, North Florida town and attend culinary school. Top Teen Chef, Food TV's new show that pairs reality TV drama with a fast-paced culinary competition, is her ticket out of her boring future. It's a once-in-a-lifetime chance to make her dreams come true and Peyton is determined to prove to herself, and the world, that where you're born does not determine where you can go. However, once on the show, Peyton quickly discovers that there is more to the competition than just a well-seasoned dish.
As things start to heat up on and off the set, Peyton will have to prove to the judges that she deserves to win while trying to untangle what is real and what is scripted drama, and decide what she is willing to risk to win before her dreams end up on the chopping block.