Ah, October: the month of spiced lattes, knit sweaters, and bookish box sets, apparently! (Yes, Shatter Me boxed set, we're looking directly at you.)
This list has plenty of ghoulish graphic novels, fierce female protagonists, world-changing romance, and more! And for this month, let us pull out one of our perennial favorite fall literary quotes: like Anne Shirley of L.M. Montgomery's Anne of Green Gables fame declares, we too are so happy to live in a world where there are Octobers.
Without further ado, check out all the fantastic books out in paperback this October. Let us know your most anticipated in the comments below!
12 YA Books You Can Finally Read in Paperback
12 PAPERBACKS OUT THIS OCTOBER
1. Caraval Paperback Boxed Set: Caraval, Legendary, Finale by Stephanie Garber
All three books in the New York Times bestselling Caraval series are now available together in a beautiful paperback boxed set.
Welcome, welcome to the world of Caraval–Stephanie Garber's sweeping tale of the unbreakable bond between two sisters and the game that is more than what it seems…
In Caraval, Scarlett has never left the tiny island where she and her beloved sister, Tella, live with their powerful, and cruel, father. But this year, Scarlett's long-dreamt of invitation to Caraval, the far-away, once-a-year performance where the audience participates in the show, finally arrives.
In Legendary, the Dragna sisters should be celebrating, but Tella isn't yet free. She made a desperate bargain with a mysterious criminal, and what Tella owes him no one has ever been able to deliver: Caraval Master Legend's true name.
In Finale, with lives, empires, and hearts hanging in the balance, Scarlett and Tella fight for their lives and for each other. There are no spectators this time: only those who will win, and those who will lose everything. All games must come to an end.
2. Squad by Maggie Tokuda-Hall, illustrated by Lisa Sterle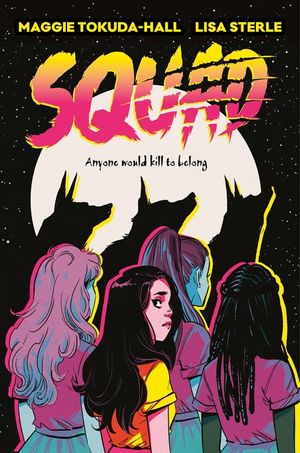 Pretty Little Liars meets Teen Wolf in this sharply funny, and patriarchy-smashing graphic novel from author Maggie Tokuda-Hall and artist Lisa Sterle. When the new girl is invited to join her high school's most popular clique, she can't believe her luck—and she can't believe their secret, either.
When Becca transfers to a high school in an elite San Francisco suburb, she's worried she's not going to fit in. To her surprise, she's immediately adopted by the most popular girls in school. At first glance, Marley, Arianna, and Mandy are perfect. But at a party under a full moon, Becca learns that they also have a big secret.
Becca's new friends are werewolves. Their prey? Slimy boys who take advantage of unsuspecting girls. Eager to be accepted, Becca allows her friends to turn her into a werewolf, and finally, for the first time in her life, she feels like she truly belongs.
But then things get complicated. As their pack begins to buckle under the pressure, their moral high ground gets muddier and muddier—and Becca realizes that she might have feelings for one of her new best friends.
Lisa Sterle's stylish illustrations paired with Maggie Tokuda-Hall's sharp writing make Squad a fierce, haunting, and fast-paced thriller that will resonate with fans of Riverdale, and with readers of This Savage Song, Lumberjanes, and Paper Girls.
3. The Shadow Mission by Shamim Sarif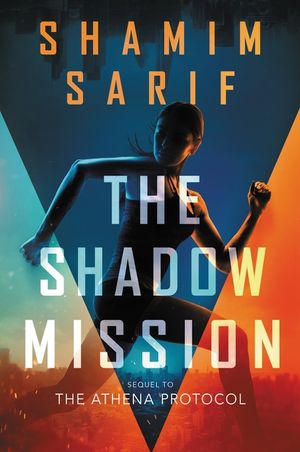 Jessie Archer faced down death to prove her dedication to Athena, the elite organization of female spies she works for. Now she's back on the team, in time to head to Pakistan to take down the man whose actions spurred Athena's founders to create the secretive squad.
But his connections spread farther than anyone knew, and when a girls' school in Mumbai is bombed, a shadowy far-right organization reveals itself—and its evil plans to continue attacks.
When someone close to the investigation turns on Athena, Jessie knows that their time to save everyone is nearly up. Once again, she'll have to risk everything to protect the vulnerable and prove herself.
4. Redemption Prep by Samuel Miller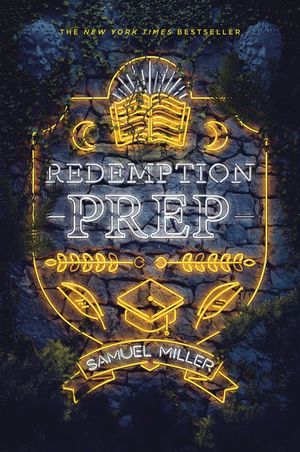 Everyone knows Emma. Neesha's her best friend, Aiden's her basketball star boyfriend, and Evan's her shadow, following Emma's every move.
Emma stands out, which is hard to do at Redemption Prep, a school where every student has been handpicked to attend its remote campus in the forest of Utah. So when she goes missing in plain sight during mass, everyone notices.
And everyone becomes a suspect, especially at a school with so many rules: Don't skip mass. Don't break curfew. Don't go into the woods.
Emma's disappearance ignites an investigation, and Neesha, Aiden, and Evan all want to find her—for different reasons. But they each have their own secrets to hide, and not everyone wants Emma to be found.
As the search continues, the students start to realize that they're not the only ones trying to hide something. Redemption Prep has secrets, too—secrets bigger than any of the students could have imagined, and Emma could be the key to finding out the truth . . . if anyone can find her.
5. Simon Snow Boxed Set: Wayward Son, Carry On, Any Way the Wind Blows by Rainbow Rowell
All three books in the New York Times-bestselling Simon Snow Trilogy are now available together in a matching hardcover boxed set featuring Kevin Wada's beautiful covers: Carry On, Wayward Son, Any Way the Wind Blows.
Diehard fans can now relive the emotional triumphs and heartaches of the series, and enjoy the complete journey of Simon and Baz as they save the world, fall in love, and find their way back home.
6. Between Shades of Gray: The Graphic Novel by Ruta Sepetys

Just in time for the 10th anniversary of Between Shades of Gray, Ruta Sepetys's award-winning debut novel, and inspiration for the major motion picture Ashes in the Snow, is now a gorgeous graphic novel!
June, 1941. A knock comes at the door and the life of fifteen-year-old Lina Vilkas changes forever. She's arrested by the Soviet secret police and deported from Lithuania to Siberia with her mother and younger brother. The conditions are horrific and Lina must fight for her life and for the lives of those around her, including the boy that she loves. Risking everything, she secretly passes along clues in the form of drawings, hoping they will reach her father's prison camp. But will her messages, and her courage, be enough to reunite her family? Will they be enough to keep her alive?
A moving and haunting novel perfect for readers of The Book Thief, now available as a stunning graphic novel.
7. Fat Angie: Rebel Girl Revolution by E.E. Charlton-Trujillo
Sophomore year has just begun, and Angie is miserable. Her girlfriend, KC, has moved away; her good friend, Jake, is keeping his distance; and the resident bully has ramped up an increasingly vicious and targeted campaign to humiliate her. An over-the-top statue dedication planned for her sister, who died in Iraq, is almost too much to bear, and it doesn't help that her mother has placed a symbolic empty urn on their mantel. At the ceremony, a soldier hands Angie a final letter from her sister, including a list of places she wanted the two of them to visit when she got home from the war. With her mother threatening to send Angie to a "treatment center" and the situation at school becoming violent, Angie enlists the help of her estranged childhood friend, Jamboree. Along with a few other outsiders, they pack into an RV and head across the state on the road trip Angie's sister did not live to take. It might be just what Angie needs to find a way to let her sister go, and find herself in the process.
8. Shatter Me Series 6-Book Box Set by Tahereh Mafi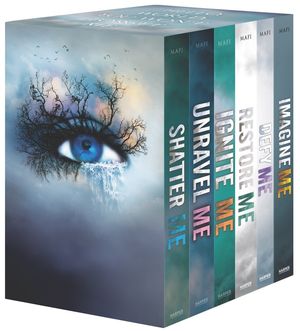 One touch is all it takes. One touch, and Juliette Ferrars can bring a grown man to his knees, begging for mercy. One touch, and she can kill.
No one knows why Juliette has such incredible power. It feels like a curse, like too great a burden for one person alone to bear. But The Reestablishment sees her as an opportunity. As a deadly weapon. And they'll stop at nothing to shape her into what they want.
Juliette has never fought for herself before. But when she's reunited with the one person who ever cared about her, she finds a strength she never knew she had.
9. Miss Meteor by Tehlor Kay-Mejia and Anna-Marie McLemore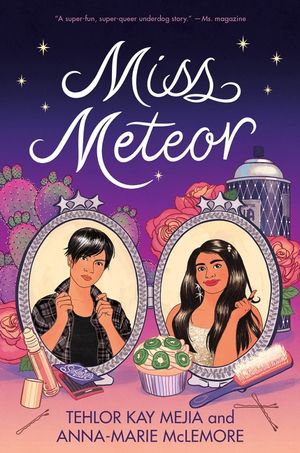 There hasn't been a winner of the Miss Meteor beauty pageant who looks like Lita Perez or Chicky Quintanilla in all its history.
But that's not the only reason Lita wants to enter the contest, or her ex-best friend Chicky wants to help her. The road to becoming Miss Meteor isn't about being perfect; it's about sharing who you are with the world—and loving the parts of yourself no one else understands.
So to pull off the unlikeliest underdog story in pageant history, Lita and Chicky are going to have to forget the past and imagine a future where girls like them are more than enough—they are everything.
10. Girl Crushed by Katie Heaney
Before Quinn Ryan was in love with Jamie Rudawski, she loved Jamie Rudawski, who was her best friend. But when Jamie dumps Quinn a month before their senior year, Quinn is suddenly girlfriend-less and best friend-less.
Enter a new crush: Ruby Ocampo, the gorgeous and rich lead singer of the popular band Sweets, who's just broken up with her on-again, off-again boyfriend. Quinn's always only wanted to be with Jamie, but if Jamie no longer wants to be with her, why can't Quinn go all in on Ruby? But the closer Quinn grows to Ruby, the more she misses Jamie, and the more (she thinks) Jamie misses her. Who says your first love can't be your second love, too?
Katie Heaney is a full-time senior writer for the Cut, a former editor at BuzzFeed, and the author of the memoirs Never Have I Ever: My Life (So Far) Without a Date and Would You Rather? Girl Crushed is her YA debut.
11. The Other Side of the Sky by Amie Kaufman and Meagan Spooner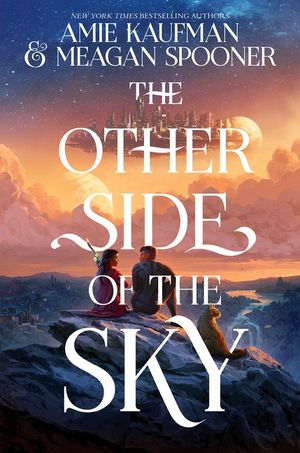 Prince North's home is in the sky, in a gleaming city held aloft by intricate engines, powered by technology. Nimh is the living goddess of her people on the Surface, responsible for providing answers, direction—hope.
North's and Nimh's lives are entwined—though their hearts can never be. Linked by a terrifying prophecy and caught between duty and fate, they must choose between saving their people or succumbing to the bond that is forbidden between them.
12. Tiny Dancer by Siena Cherson Siegel, illustrated by Mark Siegel
All her life, Siena has dreamed of being a ballerina. Her love of movement and dedication to the craft earned her a spot at the School of American Ballet, with hopes of becoming a member of George Balanchine's world-famous New York City Ballet company. Siena has worked hard for many years to be a professional ballet dancer, but injury and doubt are starting to take their toll.
Maybe it's time to look beyond the world of dance–but Siena's whole identity has been shaped by ballet. When you have spent your entire life working toward something, how do you figure out what comes next? And how do you figure out who you are without the thing that defined you? This is a moving and beautifully drawn memoir of a dancer struggling to find her next step–and a young woman finding her true footing in the world.
---
What books are you reading in paperback? Let us know below!