Long ago, a show called Avatar: The Last Airbender aired on Nickelodeon. And the world was in harmony. Then, after three seasons, it ended. Thirteen years have passed, and Netflix, a streaming service, has brought the show back when we needed it most.
Okay, that opening is only going to make sense to people who have seen the show's opening credits, but we couldn't resist. And like, if you're reading this article, you've probably already watched! Right? Because people aren't just discovering the show right now—they're also watching it again. It's one of those shows you can watch again and again and enjoy just as much every time. So, whether you are watching the show for the first or fifth time, we wanted to give you a list of some books to read once you've finished your binge.
So it doesn't matter if you're looking for more elemental magic, the character dynamics, the world, or something else entirely—check out these books to fill that Avatar void!
Books for 'Avatar: The Last Airbender' Fans
AND BOOKS FOR EVERY TYPE OF BENDER
1. The Prison Healer by Lynette Noni
📚 This is the first book in: The Prison Healer series
Seventeen-year-old Kiva Meridan has spent the last ten years fighting for survival in the notorious death prison, Zalindov, working as the prison healer.
When the Rebel Queen is captured, Kiva is charged with keeping the terminally ill woman alive long enough for her to undergo the Trial by Ordeal: a series of elemental challenges against the torments of air, fire, water, and earth, assigned to only the most dangerous of criminals.
Then a coded message from Kiva's family arrives, containing a single order: "Don't let her die. We are coming." Aware that the Trials will kill the sickly queen, Kiva risks her own life to volunteer in her place. If she succeeds, both she and the queen will be granted their freedom.
But no one has ever survived.
With an incurable plague sweeping Zalindov, a mysterious new inmate fighting for Kiva's heart, and a prison rebellion brewing, Kiva can't escape the terrible feeling that her trials have only just begun.
2. Set Fire to the Gods by Sara Raasch & Kristen Simmons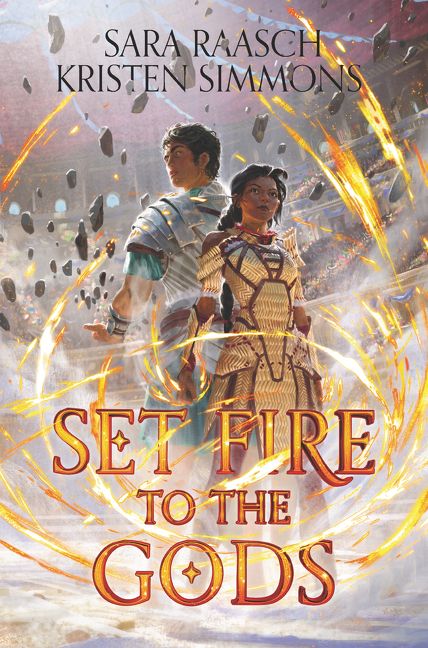 Ash is descended from a long line of gladiators, and she knows the brutal nature of war firsthand. But after her mother dies in an arena, she vows to avenge her by overthrowing her fire god, whose temper has stripped her country of its resources.
Madoc grew up fighting on the streets to pay his family's taxes. But he hides a dangerous secret: he doesn't have the earth god's powers like his opponents. His elemental gift is something else—something that hasn't been seen in centuries.
When an attempted revenge plot goes dangerously wrong, Ash inadvertently throws the fire and earth gods into a conflict that can only be settled by deadly, lavish gladiator games, throwing Madoc in Ash's path. She realizes that his powers are the weapon her rebellion needs—but Madoc won't jeopardize his family, regardless of how intrigued he is by the beautiful warrior.
But when the gods force Madoc's hand, he and Ash uncover an ancient war that will threaten more than one immortal—it will unravel the world.
3. The Rise of Kyoshi by F.C. Yee
F. C. Yee's The Rise of Kyoshi delves into the story of Kyoshi, the Earth Kingdom–born Avatar.
The longest-living Avatar in this beloved world's history, Kyoshi established the brave and respected Kyoshi Warriors, but also founded the secretive Dai Li, which led to the corruption, decline, and fall of her own nation.
The first of two novels based on Kyoshi, The Rise of Kyoshi maps her journey from a girl of humble origins to the merciless pursuer of justice who is still feared and admired centuries after she became the Avatar.
4. Infinity Son by Adam Silvera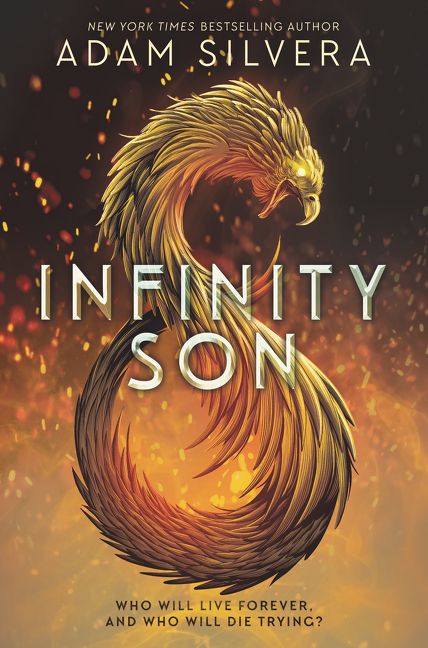 Growing up in New York, brothers Emil and Brighton always idolized the Spell Walkers—a vigilante group sworn to rid the world of specters. While the Spell Walkers and other celestials are born with powers, specters take them, violently stealing the essence of endangered magical creatures.
Brighton wishes he had a power so he could join the fray. Emil just wants the fighting to stop. The cycle of violence has taken a toll, making it harder for anyone with a power to live peacefully and openly. In this climate of fear, a gang of specters has been growing bolder by the day.
Then, in a brawl after a protest, Emil manifests a power of his own—one that puts him right at the heart of the conflict and sets him up to be the heroic Spell Walker Brighton always wanted to be.
Brotherhood, love, and loyalty will be put to the test, and no one will escape the fight unscathed.
5. A Song of Wraiths & Ruin by Roseanne A. Brown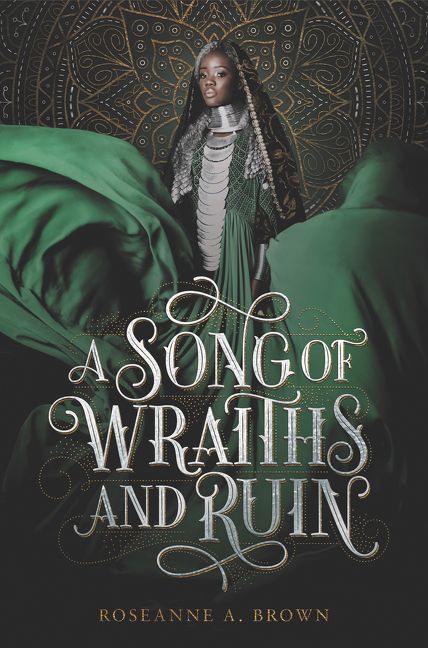 For Malik, the Solstasia festival is a chance to escape his war-stricken home and start a new life with his sisters in the prosperous desert city of Ziran. But when a vengeful spirit abducts his younger sister, Nadia, as payment to enter the city, Malik strikes a fatal deal—kill Karina, Crown Princess of Ziran, for Nadia's freedom.
But Karina has deadly aspirations of her own. Her mother, the Sultana, has been assassinated; her court threatens mutiny; and Solstasia looms like a knife over her neck. Grief-stricken, Karina decides to resurrect her mother through ancient magic… requiring the beating heart of a king. And she knows just how to obtain one: by offering her hand in marriage to the victor of the Solstasia competition.
When Malik rigs his way into the contest, they are set on a heart-pounding course to destroy each other. But as attraction flares between them and ancient evils stir, will they be able to see their tasks to the death?
6. An Ember in the Ashes by Sabaa Tahir
Laia is a slave. Elias is a soldier. Neither is free.
Under the Martial Empire, defiance is met with death. Those who do not vow their blood and bodies to the Emperor risk the execution of their loved ones and the destruction of all they hold dear.
It is in this brutal world, inspired by ancient Rome, that Laia lives with her grandparents and older brother. The family ekes out an existence in the Empire's impoverished backstreets. They do not challenge the Empire. They've seen what happens to those who do. But when Laia's brother is arrested for treason, Laia is forced to make a decision. In exchange for help from rebels who promise to rescue her brother, she will risk her life to spy for them from within the Empire's greatest military academy.
There, Laia meets Elias, the school's finest soldier—and secretly, its most unwilling. Elias wants only to be free of the tyranny he's being trained to enforce. He and Laia will soon realize that their destinies are intertwined—and that their choices will change the fate of the Empire itself.
7. The Tiger at Midnight by Swati Teerdhala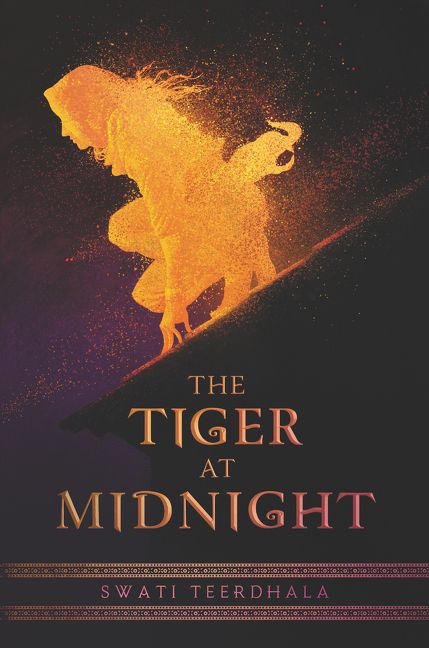 Esha lost everything in the royal coup—and as the legendary rebel known as the Viper, she's made the guilty pay. Now she's been tasked with her most important mission to date: taking down the ruthless General Hotha.
Kunal has been a soldier since childhood. His uncle, the general, has ensured that Kunal never strays from the path—even as a part of Kunal longs to join the outside world, which has only been growing more volatile.
When Esha and Kunal's paths cross one fated night, an impossible chain of events unfolds. Both the Viper and the soldier think they're calling the shots, but they're not the only players moving the pieces.
As the bonds that hold their land in order break down and the sins of the past meet the promise of a new future, both the soldier and the rebel must decide where their loyalties lie: with the lives they've killed to hold on to or with the love that's made them dream of something more.
8. Three Dark Crowns by Kendare Blake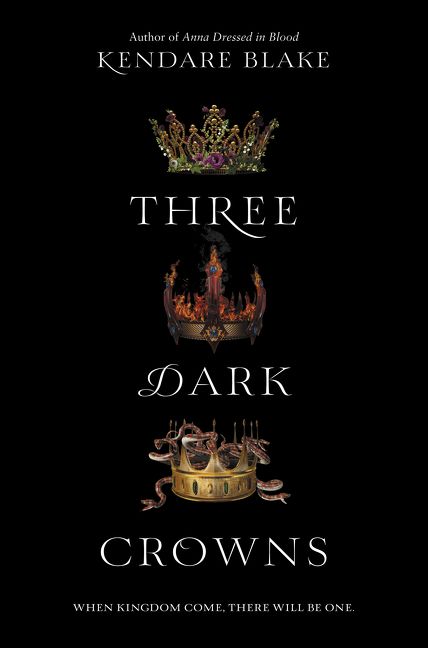 In every generation on the island of Fennbirn, a set of triplets is born: three queens, all equal heirs to the crown and each possessor of a coveted magic.
Mirabella is a fierce elemental, able to spark hungry flames or vicious storms at the snap of her fingers. Katharine is a poisoner, one who can ingest the deadliest poisons without so much as a stomachache. Arsinoe, a naturalist, is said to have the ability to bloom the reddest rose and control the fiercest of lions.
But becoming the Queen Crowned isn't solely a matter of royal birth. Each sister has to fight for it. And it's not just a game of win or lose…it's life or death. The night the sisters turn sixteen, the battle begins. The last queen standing gets the crown.
9. Red Queen by Victoria Aveyard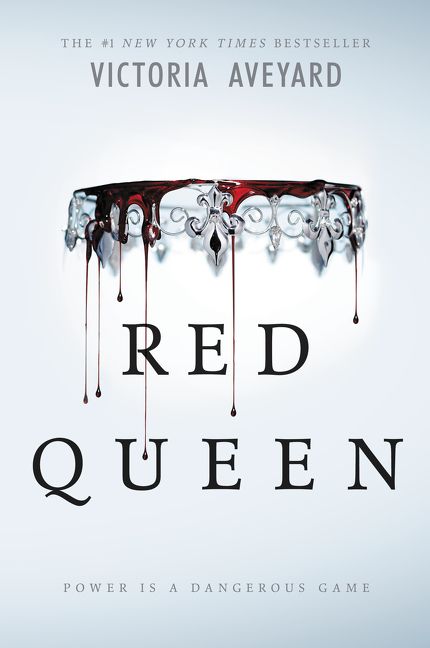 Mare Barrow's world is divided by blood—those with common, Red blood serve the Silver-blooded elite, who are gifted with superhuman abilities. Mare is a Red, scraping by as a thief in a poor, rural village, until a twist of fate throws her in front of the Silver court. Before the king, princes, and all the nobles, she discovers she has an ability of her own.
To cover up this impossibility, the king forces her to play the role of a lost Silver princess and betroths her to one of his own sons. As Mare is drawn further into the Silver world, she risks everything and uses her new position to help the Scarlet Guard—a growing Red rebellion—even as her heart tugs her in an impossible direction.
One wrong move can lead to her death, but in the dangerous game she plays, the only certainty is betrayal.
10. Nocturna by Maya Motayne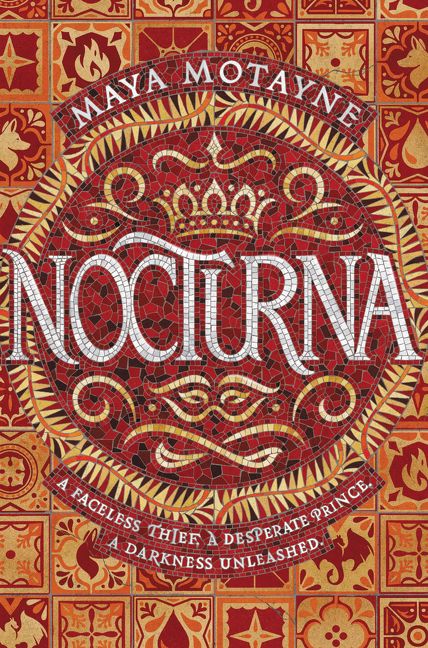 To Finn Voy, magic is two things: a knife to hold under the chin of anyone who crosses her…and a disguise she shrugs on as easily as others pull on cloaks.
As a talented faceshifter, it's been years since Finn has seen her own face, and that's exactly how she likes it. But when Finn gets caught by a powerful mobster, she's forced into an impossible mission: steal a legendary treasure from Castallan's royal palace or be stripped of her magic forever.
After the murder of his older brother, Prince Alfehr is first in line for the Castallan throne. But Alfie can't help but feel that he will never live up to his brother's legacy. Riddled with grief, Alfie is obsessed with finding a way to bring his brother back, even if it means dabbling in forbidden magic.
But when Finn and Alfie's fates collide, they accidentally unlock a terrible, ancient power—which, if not contained, will devour the world. And with Castallan's fate in their hands, Alfie and Finn must race to vanquish what they have unleashed, even if it means facing the deepest darkness in their pasts.
11. Furyborn by Claire Legrand
When assassins ambush her best friend, Rielle Dardenne risks everything to save him, exposing herself as one of a pair of prophesied queens: a queen of light, and a queen of blood. To prove she is the Sun Queen, Rielle must endure seven elemental magic trials. If she fails, she will be executed…unless the trials kill her first.
One thousand years later, the legend of Queen Rielle is a fairy tale to Eliana Ferracora. A bounty hunter for the Undying Empire, Eliana believes herself untouchable–until her mother vanishes. To find her, Eliana joins a rebel captain and discovers that the evil at the empire's heart is more terrible than she ever imagined.
As Rielle and Eliana fight in a cosmic war that spans millennia, their stories intersect, and the shocking connections between them ultimately determine the fate of their world–and of each other.
12. Flamecaster by Cinda Williams Chima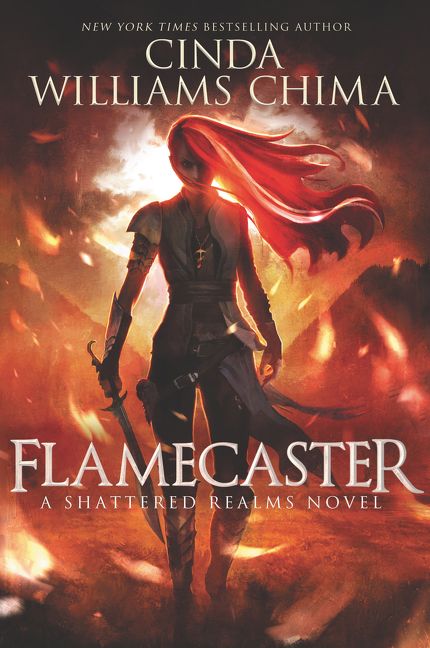 Adrian sul'Han, known as Ash, is a trained healer with a powerful gift of magic—and a thirst for revenge. Ash is forced into hiding after a series of murders throws the queendom into chaos. Now he's closer than ever to killing the man responsible, the cruel king of Arden. Can Ash use his powers not to save a life but to take it?
Abandoned at birth, Jenna Bandelow was told that the magemark on the back of her neck would make her a target. But when the King's Guard launches a relentless search for a girl with a mark like hers, Jenna assumes that it has more to do with her role as a saboteur than any birth-based curse. Eventually, Ash's and Jenna's paths will collide in Arden. Thrown together by chance and joined by their hatred of the ruthless king, they will come to rescue each other in ways they cannot yet imagine.
13. Onyx & Ivory by Mindee Arnett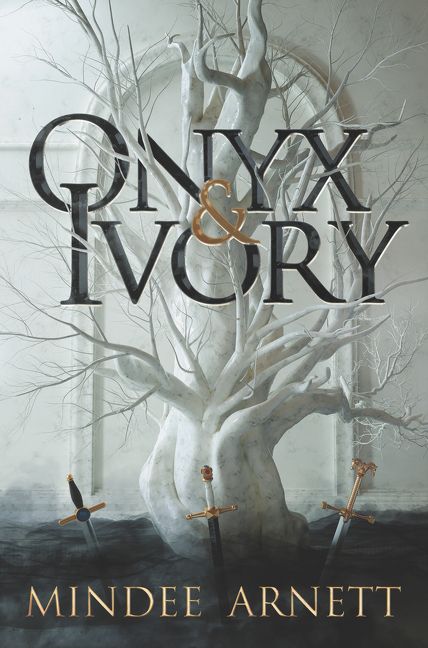 They call her Traitor Kate. It's a title Kate Brighton inherited from her father after he tried to assassinate the high king of Rime.
Cast out of the nobility, Kate now works for the royal courier service. Only the most skilled ride for the Relay and only the fastest survive, for when night falls, the drakes—deadly flightless dragons—come out to hunt. Fortunately, Kate has a secret edge: She is a wilder, born with forbidden magic that allows her to influence the minds of animals.
And it's this magic that leads her to a caravan massacred by drakes in broad daylight—the only survivor Corwin Tormaine, the son of the king. Her first love, the boy she swore to forget after he condemned her father to death. With their paths once more entangled, Kate and Corwin must put the past behind them to face this new threat and an even darker menace stirring in the kingdom.
14. Kingdom of Souls by Rena Barron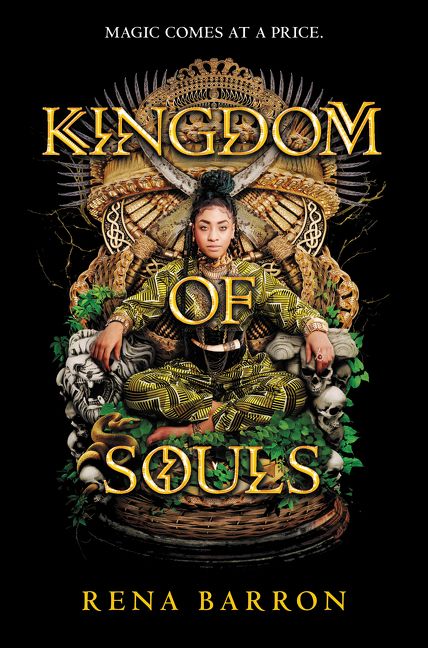 Heir to two lines of powerful witchdoctors, Arrah yearns for magic of her own. Yet she fails at bone magic, fails to call upon her ancestors, and fails to live up to her family's legacy. Under the disapproving eye of her mother, the Kingdom's most powerful priestess and seer, she fears she may never be good enough.
But when the Kingdom's children begin to disappear, Arrah is desperate enough to turn to a forbidden, dangerous ritual. If she has no magic of her own, she'll have to buy it—by trading away years of her own life.
Arrah's borrowed power reveals a nightmarish betrayal, and on its heels, a rising tide of darkness that threatens to consume her and all those she loves. She must race to unravel a twisted and deadly scheme… before the fight costs more than she can afford.
15. We Hunt the Flame by Hafsah Faizal
Zafira is the Hunter, disguising herself as a man when she braves the cursed forest of the Arz to feed her people. Nasir is the Prince of Death, assassinating those foolish enough to defy his autocratic father, the king. If Zafira was exposed as a girl, all of her achievements would be rejected; if Nasir displayed his compassion, his father would punish him in the most brutal of ways.
Both are legends in the kingdom of Arawiya—but neither wants to be.
War is brewing, and the Arz sweeps closer with each passing day, engulfing the land in shadow. When Zafira embarks on a quest to uncover a lost artifact that can restore magic to her suffering world and stop the Arz, Nasir is sent by the king on a similar mission: retrieve the artifact and kill the Hunter. But an ancient evil stirs as their journey unfolds—and the prize they seek may pose a threat greater than either can imagine.
16. The Never Tilting World by Rin Chupeco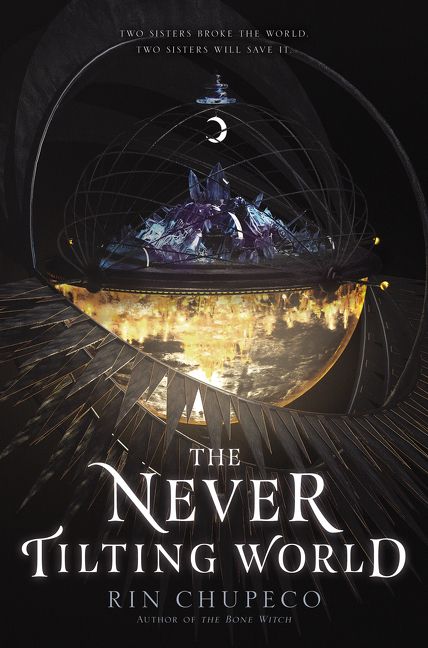 A world split between day and night. Two sisters who must unite it.
Generations of twin goddesses have long ruled Aeon—until one sister's betrayal split their world in two. A Great Abyss now divides two realms: one cloaked in eternal night, the other scorched beneath an ever-burning sun.
While one sister rules the frozen fortress of Aranth, her twin rules the sand-locked Golden City—each with a daughter by their side. Now those young goddesses must set out on separate, equally dangerous journeys in hopes of healing their broken world. No matter the sacrifice it demands.
17. The Empire of Dreams by Rae Carson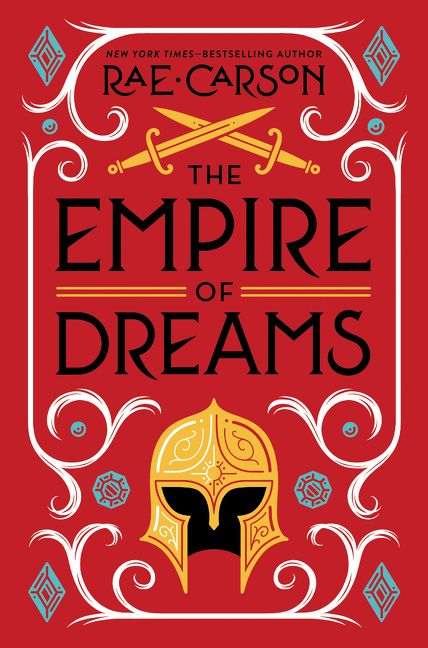 Red Sparkle Stone is a foundling orphan with an odd name, a veiled past, and a mark of magic in her hair. But finally—after years and years of running, of fighting—she is about to be adopted into the royal family by Empress Elisa herself. She'll have a home, a family. Sixteen-year-old Red can hardly believe her luck. Then, in a stunning political masterstroke, the empress's greatest rival blocks the adoption, and everything Red has worked for crumbles before her eyes.
But Red is not about to let herself or the empress become a target again. Determined to prove her worth and protect her chosen family, she joins the Royal Guard, the world's most elite fighting force. It's no coincidence that someone wanted her to fail as a princess, though. Someone whose shadowy agenda puts everything—and everyone—she loves at risk. As danger closes in, it will be up to Red to save the empire. If she can survive recruitment year—something no woman has ever done before.
18. Don't Call the Wolf by Aleksandra Ross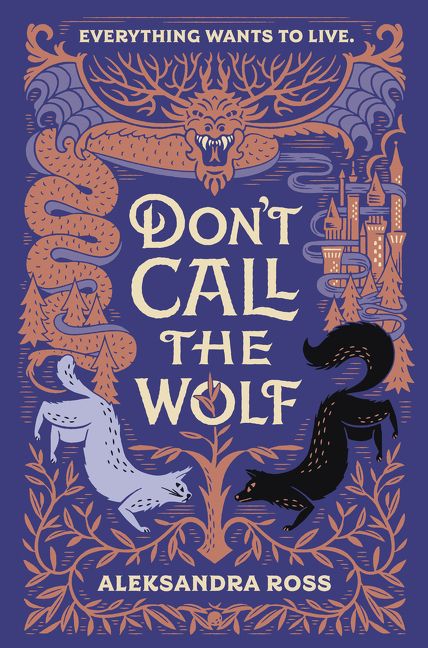 A fierce young queen, neither human nor lynx, who fights to protect a forest humans have long abandoned.
An exhausted young soldier, last of his name, who searches for the brother who disappeared beneath those trees without a trace.
A Golden Dragon, fearsome and vengeful, whose wingbeats haunt their nightmares and their steps.
When these three paths cross at the fringes of a war between monsters and men, shapeshifter queen and reluctant hero strike a deal that may finally turn the tide against the rising hordes of darkness. Ren will help Lukasz find his brother…if Lukasz promises to slay the Dragon.
But promises are all too easily broken.
19. Ash Princess by Laura Sebastian
Theodosia was six when her country was invaded and her mother, the Fire Queen, was murdered before her eyes. On that day, the Kaiser took Theodosia's family, her land, and her name. Theo was crowned Ash Princess–a title of shame to bear in her new life as a prisoner.
For ten years Theo has been a captive in her own palace. She's endured the relentless abuse and ridicule of the Kaiser and his court. She is powerless, surviving in her new world only by burying the girl she was deep inside.
Then, one night, the Kaiser forces her to do the unthinkable. With blood on her hands and all hope of reclaiming her throne lost, she realizes that surviving is no longer enough. But she does have a weapon: her mind is sharper than any sword. And power isn't always won on the battlefield.
For ten years, the Ash Princess has seen her land pillaged and her people enslaved. That all ends here.
20. All the Stars and Teeth by Adalyn Grace
As princess of the island kingdom Visidia, Amora Montara has spent her entire life training to be High Animancer — the master of souls. The rest of the realm can choose their magic, but for Amora, it's never been a choice. To secure her place as heir to the throne, she must prove her mastery of the monarchy's dangerous soul magic.
When her demonstration goes awry, Amora is forced to flee. She strikes a deal with Bastian, a mysterious pirate: he'll help her prove she's fit to rule, if she'll help him reclaim his stolen magic.
But sailing the kingdom holds more wonder — and more peril — than Amora anticipated. A destructive new magic is on the rise, and if Amora is to conquer it, she'll need to face legendary monsters, cross paths with vengeful mermaids, and deal with a stow-away she never expected… or risk the fate of Visidia and lose the crown forever.
21. Serpent & Done by Shelby Mahurin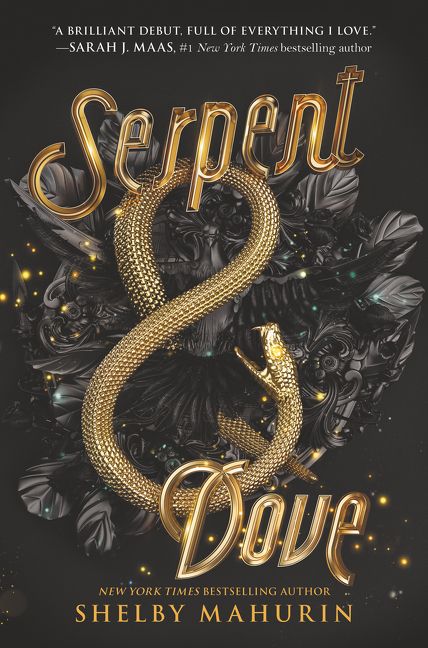 Bound as one, to love, honor, or burn.
Two years ago, Louise le Blanc fled her coven and took shelter in the city of Cesarine, forsaking all magic and living off whatever she could steal. There, witches like Lou are hunted. They are feared. And they are burned.
As a huntsman of the Church, Reid Diggory has lived his life by one principle: Thou shalt not suffer a witch to live. But when Lou pulls a wicked stunt, the two are forced into an impossible situation—marriage.
Lou, unable to ignore her growing feelings, yet powerless to change what she is, must make a choice. And love makes fools of us all.
22. Children of Blood and Bone by Tomi Adeyemi
They killed my mother. They took our magic. They tried to bury us.
Now we rise.
Zélie Adebola remembers when the soil of Orïsha hummed with magic. Burners ignited flames, Tiders beckoned waves, and Zélie's Reaper mother summoned forth souls.
But everything changed the night magic disappeared. Under the orders of a ruthless king, maji were killed, leaving Zélie without a mother and her people without hope. Now Zélie has one chance to bring back magic and strike against the monarchy. With the help of a rogue princess, Zélie must outwit and outrun the crown prince, who is hell-bent on eradicating magic for good.
Danger lurks in Orïsha, where snow leoponaires prowl and vengeful spirits wait in the waters. Yet the greatest danger may be Zélie herself as she struggles to control her powers and her growing feelings for an enemy.
---
What other series do you want to see book recommendations for? Let us know in the comments!