Hello, bookworms! It is I, author Roseanne A. Brown, here to provide you with a 100% official, 75% serious recap of my novel A Song of Wraiths and Ruin in preparation for its upcoming sequel and finale A Psalm of Storms and Silence! (Try saying those two titles in a row ten times fast!)
If it wasn't obvious, this recap contains SPOILERS!!! for ASOWAR, so if you haven't read it yet, what are you even doing with your life? Go do that! Or if you're one of those people who likes to know the ending of a book before you start it, then go forth. Can't say I relate, but I respect you nonetheless!
And if you want an entertaining but not at all accurate summary of my book, check out this Twitter thread!
When your publisher asks for an official recap of the book you haven't read in like 3 years

Y'all help me out here, who remembers what happens in ASOWAR???? Incorrect answers only!!! pic.twitter.com/rcBG6QKszX

— Roseanne A. Boo-rown 👻 (@rosiesrambles) October 22, 2021
Okay, now onto the official A Song of Wraiths and Ruin recap!
What Happened in A Song of Wraiths and Ruin?
EVERYTHING YOU NEED TO KNOW
THE WORLD
• Sonande: The continent on which our story takes place. Inspired by the 11th-12th century kingdoms on the Trans-Saharan trade routes in Africa. Full of sleeping magic, screaming creatures, and scheming spirits. Probably not the best place to vacation.
• Ziran: A wealthy desert city-state deep in the heart of Sonande. Ruled over by the Alahari family, a line of queens with silver hair.
• Solstasia: A weeklong festival held every 50 years in Ziran commemorating the city's creation and heralding the start of a new era. It also features a competition to choose which deity will rule over the next era.
• Eshra: A mountainous region of Sonande forcibly occupied by Ziran. Eshrans are treated like second-class citizens.
• The Alignment System: The major religion of this world, through which every person is matched with a patron deity based on the day of the week on which they're born. A person's patron decides what kind of magic they can do. You can discover yours here.
• Zawenji: A magic user whose powers affect the physical world (summoning fire, shaking the earth etc.)
• Ulraji: A magic user whose powers affect the intangible world (Reading minds, creating illusions etc.)
THE CHARACTERS
• Malik: An Eshran refugee traveling to Ziran with his siblings in search of a better life. But when his younger sister is kidnapped by a vengeful spirit, he strikes a deal to win her freedom by killing the crown princess. To do this, he enters a competition to win her hand in marriage so he can get close enough to murder her. Tends to make things worse on accident.
Memorable quote: "This is my mind. I am the strongest person here."
• Leila: Malik's long-suffering older sister. Almost always right.
• Nadia: Malik's little sister. Very precocious.
• Idir: The vengeful spirit who kidnaps Nadia. Holds a thousand-year long grudge against Karina's ancestor, the founder of Ziran. Needs to learn to let things go.
Memorable quote: "A word of advice, boy: Never agree to a deal before knowing what the terms are."
• Karina: The crown princess of Ziran who very much DOES NOT want the job. She doesn't want the job so much that when her mother is murdered, Karina turns to forbidden magic to resurrect her instead of claiming the throne herself. But the spell requires the beating heart of a king, which is why Karina rigs the Solstasia competition to marry the winner, kill him, and use his heart to bring her mother back to life. Easy, right?
Memorable quote: "I am ready to die for this city…The question is, are you?"
• Aminata: Karina's long-suffering maid. Always right.
• Farid: Karina's adopted older brother. Was in love with Karina's older sister. Is currently very stressed trying to wrangle Karina into caring about being queen. Deserves a nap.
• Hanane: Karina's older sister who passed ten years prior in a freak accident. Karina has a huge inferiority complex from living in the shadow of her memory.
• Tunde: One of the seven Champions of Solstasia. Malik's (only) friend and Karina's ex, which makes their conversations aaaaaakward. A true bro.
• Driss: Another one of the seven Champions of Solstasia. Not a true bro.

• Nyeni: A griot who pops up from time to time to say unhelpful things to Malik. Probably magic, definitely annoying.
• Afua: A young girl visiting Ziran for Solstasia. Comes from the neighboring country of Arkwasi. Loves magic as much as she does cats. Too good for this world, too pure.
KEY MOMENTS
• Welcome to Ziran: The day before Solstasia, Malik and his sisters arrive in Ziran hoping to start new lives only for Malik to lose the family's passage papers. This leads Nadia to make a magical wish to Nyeni to get inside the city. The wish works, but at a cost—the spirit Idir claims that in exchange for the magic that got the siblings into Ziran, Nadia now belongs to him. Desperate to save his little sister, Malik strikes a deal—in exchange for Nadia's freedom, he'll kill Karina as part of Idir's grudge against the Alahari family.
• Welcome to the palace: Meanwhile, out in the city shirking her royal duties, Karina wins a book full of ancient magic spells during a duel. She returns to the palace, where her mother the queen chews her out for not taking her role has crown princess seriously. However, only a few hours later the queen is assassinated, leaving a distraught Karina on the throne and in charge of Solstasia.
• Solstasia begins: Malik uses his newly unlocked powers to cheat his way into the Solstasia competition. After a disastrous opening ceremony proves that Karina doesn't have what it takes to be queen, she decides to use one of the spells in the book to resurrect her mother to retake the throne. To complete the spell, she'll need the heart of a king, so Karina makes herself the prize of the competition with the aim of marrying the winner and killing him. Malik gets a chance to kill Karina during the First Challenge, but chickens out at the last second. He passes to the next round only with interference from Nyeni.
• A night on the town: Malik is quickly befriended by Tunde, who drags both him and Driss out into the city for a night on the town. Karina goes into the city as well to meet Afua, who is a magic expert. Afua helps her contact the gods, who give Karina a riddle on where to find the blood moon flower needed for the ritual. Malik and Karina find themselves hiding in the same spot during a raid, though neither recognizes the other. They actually find they have a lot in common (surprising nobody but them) and bond until Karina reveals her identity to stop a riot, and Malik realizes the cute girl he was lowkey crushing on is the one he is supposed to kill!!! G A S P!!!!
• Schemes on schemes: The next day, Karina confronts the council on the unsanctioned raid, and they make it very clear they are ready to overthrow her. Malik wins the Second Challenge using his magic. Malik and Karina share a tension-filled dance at a party, which ends with her pushing him in a lake in an attempt to get him to leave the competition. Leila yells at him for being all goo-goo eyed over his target, which, honestly, fair. The council oversteps their power and arrests Afua. When Karina tries to stop them, they lock her in her bedroom. She realizes the answer to the gods' riddle lies beneath the palace. After setting her room on fire, she escapes into the tunnels beneath the palace with Malik's help.
• The necropolis: Malik and Karina discover a necropolis full of petrified bodies hiding beneath the palace. There, Malik learns he's a descendant of the Ulraji Tel-Ra, the ancient sorcerers Karina's ancestor once battled against. He also learns that Idir was actually married to the founder of Ziran, making him Karina's great-many-times-over grandfather. Oblivious to all of this, Karina retrieves the blood moon flower. The two defeat a serpopard, becoming closer than ever and leading to an aaaaalmost kiss. Malik has the chance to kill Karina (again) and doesn't take it (again). They return to Ziran, where Karina deals with her mutinous council once and for all through a poison gambit that'd put Snow White's apple to shame.
• Winner takes it all: Malik accidentally kills Driss, leaving the competition between him and Tunde. Malik wins the Third Challenge, but since Karina no longer wants to kill him, she disqualifies Malik and names Tunde the winner. She marries Tunde in secret that night, only to spare his life at the last second, accepting both her mother's death and her role as the new queen of Ziran. However, distraught over Karina's apparent rejection and having squandered his opportunity to save his sister, Malik lures Karina away, kisses her, and then finally stabs her in the heart in a scene readers are still mad at me over.
• A deadly mistake: However, instead of killing her, their combined power releases Idir into the human world, which was the spirit's plan all along. Now he's free to enact destruction upon Ziran in retaliation for his ancient lover's betrayal. Farid arrives, has Malik thrown in a dungeon, and captures Karina. He reveals himself to have been the mastermind behind the queen's death. He kills Tunde and removes his heart to complete the ritual. 😭
• One last game: Farid reveals that he's been working with Idir all along. His plan was for Karina to gather all the materials needed for the ritual so that he could use it to bring Hanane back to life. Malik discovers that Nyeni is actually the ancient trickster god Hyena. With a little help from her and his sister, Malik escapes the dungeon and makes it to the ritual site. He tricks Idir into entering his mind, the one place he knows he's more powerful than the being. Malik binds Idir there so he can't hurt anyone, but not before the ritual succeeds in resurrecting Hanane.
• Into the unknown: With the help of Aminata, Afua, and a few others, Karina escapes Farid's clutches and reconnects with her zawenji magic. She leaves Ziran swearing to return once she's strong enough to retake her throne. Using Idir's magic—which is now his magic—Malik frees Nadia and the siblings are reunited at last! Malik decides to stay in Ziran with his family and study his new powers under Farid's tutelage, which is a decision that'll surely have no consequences at all. *cue ominous music*
And that's it for Book 1! If you want to see what's in store for Malik and Karina, definitely pick up A Psalm of Storms and Silence!
About A Psalm of Storms and Silence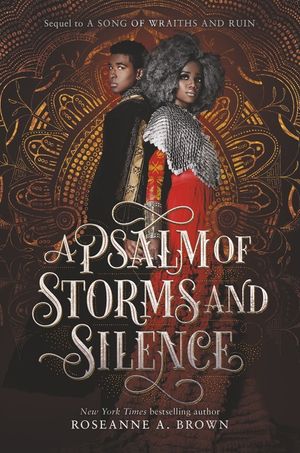 The highly anticipated second—and final—book in the immersive fantasy duology inspired by West African folklore that began with the New York Times bestselling A Song of Wraiths and Ruin, from author Roseanne A. Brown. Perfect for fans of Tomi Adeyemi, Renée Ahdieh, and Sabaa Tahir.
Karina lost everything after a violent coup left her without her kingdom or her throne. Now the most wanted person in Sonande, her only hope of reclaiming what is rightfully hers lies in a divine power hidden in the long-lost city of her ancestors.
Meanwhile, the resurrection of Karina's sister has spiraled the world into chaos, with disaster after disaster threatening the hard-won peace Malik has found as Farid's apprentice. When they discover that Karina herself is the key to restoring balance, Malik must use his magic to lure her back to their side. But how do you regain the trust of someone you once tried to kill?
As the fabric holding Sonande together begins to tear, Malik and Karina once again find themselves torn between their duties and their desires. And when the fate of everything hangs on a single, horrifying choice, they each must decide what they value most—a power that could transform the world, or a love that could transform their lives.