Maybe we say this every year, but it's been a great year for books! One might even say it was…one for the books? …We'll see ourselves out. But seriously…with the end of the year approaching, that means one thing…
We're so excited to announce Epic Reads' 9th annual iteration of this community-driven book awards ceremony and we're so grateful to you, the readers, for keeping us going this long with your support.
These awards are important because they put the power in the hands of readers like you. There is no panel of judges. No one out of touch is voting on which YA books were the best of the year. This is a place where YA is taken seriously, not treated like a secondary genre—as it should be.
At the heart of YA are the readers who love these books: who these books are written for, who use their platforms to gush about these books, who are changed by these books, who push these books into their friends' hands and hold their breath while they wait for their feedback, hoping it impacted them just as much.
Isn't it wonderful to have the opportunity for your favorite, most-gushed over book of the year to receive an award because of how much you love it?
And at Epic Reads, we also know that bookstagrammers, booktubers, booktokers, and book bloggers are a vital part of the YA community—which is why there's a Book Nerd award where you get to nominate your faves!
If this is your first time learning about the *Book Shimmy* Awards, here's a quick rundown on how it works:
There are three stages of voting—all led by the fans (you!)–starting with nominating your favorite books and/or book nerds for each of our 20 categories.
Once nominations are in, Epic Reads will announce the 4-5 books/creators who had the highest number of nominations for each category, and those become the official nominees.
With the official nominees announced, the website opens up to multiple rounds of voting for semi-finalists and finalists through the end of the year, until the winners are officially announced after the new year.
Sounds easy enough, right?
And nominations and voting for 2021 are open now! Get your book lists out because it's time to spread some love to your favorite books of this year.
Take a look at some of the past winners below–I bet you'll spot some of your faves!
2020 Best of Shelf: Cemetery Boys by Aiden Thomas
Best of Shelf: The award given to the overall best book of the year.
Yadriel has summoned a ghost, and now he can't get rid of him.
When his traditional Latinx family has problems accepting his true gender, Yadriel becomes determined to prove himself a real brujo. With the help of his cousin and best friend Maritza, he performs the ritual himself, and then sets out to find the ghost of his murdered cousin and set it free.
However, the ghost he summons is actually Julian Diaz, the school's resident bad boy, and Julian is not about to go quietly into death. He's determined to find out what happened and tie off some loose ends before he leaves. Left with no choice, Yadriel agrees to help Julian, so that they can both get what they want. But the longer Yadriel spends with Julian, the less he wants to let him leave.
2019 Mental Health Matters: How to Make Friends with the Dark by Kathleen Glasgow
Mental Health Matters: The award for the best book that shines a light on mental health.
Here is what happens when your mother dies.
It's the brightest day of summer and it's dark outside. It's dark in your house, dark in your room, and dark in your heart. You feel like the darkness is going to split you apart.
That's how it feels for Tiger. It's always been Tiger and her mother against the world. Then, on a day like any other, Tiger's mother dies. And now it's Tiger, alone.
Here is how you learn to make friends with the dark.
2018 Reality Bites: A Reaper at the Gates by Sabaa Tahir
Reality Bites: The award for the best sci-fi or fantasy novel.
Beyond the Empire and within it, the threat of war looms ever larger.
The Blood Shrike, Helene Aquilla, is assailed on all sides. Emperor Marcus, haunted by his past, grows increasingly unstable, while the Commandant capitalizes on his madness to bolster her own power. As Helene searches for a way to hold back the approaching darkness, her sister's life and the lives of all those in the Empire hang in the balance.
Far to the east, Laia of Serra knows the fate of the world lies not in the machinations of the Martial court, but in stopping the Nightbringer. But while hunting for a way to bring him down, Laia faces unexpected threats from those she hoped would aid her, and is drawn into a battle she never thought she'd have to fight.
And in the land between the living and the dead, Elias Veturius has given up his freedom to serve as Soul Catcher. But in doing so, he has vowed himself to an ancient power that will stop at nothing to ensure Elias's devotion—even at the cost of his humanity.
2017 We Need Diverse Books*: The Hate U Give by Angie Thomas
*Note: This category is now called the "Mirrors & Windows" category.
Mirrors & Windows: This award, named after Dr. Rudine Sims Bishop's famous metaphor of Mirrors, Windows, & Sliding Doors, is given to the best YA book of 2021 that represents marginalized voices and allows for both empathy and reflection.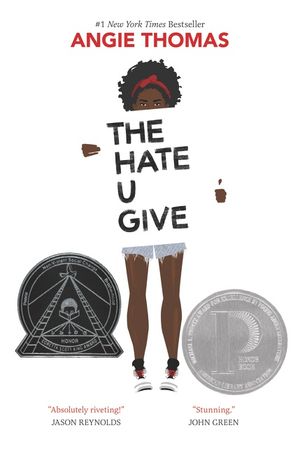 Sixteen-year-old Starr Carter moves between two worlds: the poor neighborhood where she lives and the fancy suburban prep school she attends. The uneasy balance between these worlds is shattered when Starr witnesses the fatal shooting of her childhood best friend Khalil at the hands of a police officer. Khalil was unarmed.
Soon afterward, his death is a national headline. Some are calling him a thug, maybe even a drug dealer and a gangbanger. Protesters are taking to the streets in Khalil's name. Some cops and the local drug lord try to intimidate Starr and her family. What everyone wants to know is: what really went down that night? And the only person alive who can answer that is Starr. But what Starr does—or does not—say could upend her community. It could also endanger her life.
2016 Cover Lust: The Sun Is Also a Star by Nicola Yoon
Cover Lust: The award given to the YA book with the most gorgeous cover design.
Natasha: I'm a girl who believes in science and facts. Not fate. Not destiny. Or dreams that will never come true. I'm definitely not the kind of girl who meets a cute boy on a crowded New York City street and falls in love with him. Not when my family is twelve hours away from being deported to Jamaica. Falling in love with him won't be my story.
Daniel: I've always been the good son, the good student, living up to my parents' high expectations. Never the poet. Or the dreamer. But when I see her, I forget about all that. Something about Natasha makes me think that fate has something much more extraordinary in store—for both of us.
---
It's safe to say you folks have always had good taste! If you didn't spot a fave here, that's even more reason for you to make sure you're voting this year!
Who are your early choices for nominees? Any predictions for who will take Best of Shelf this year? Let us know in the comments!