There are few things we love more than a good fantasy or sci-fi book with positive LGBTQ+ representation. It's a combination we simply can't get enough of.
Everyone deserves to see themselves represented on the page, which is why we love these genre books with LGBT characters and romances. Readers who identify as queer haven't always had the same level of representation in popular books, but the stories in the list below are some we CAN'T GET OVER. Searching for fantasy or sci-fi books with queer characters? In the mood for fabulous LGBTQ+ romances? These books are just the tip of the iceberg of the *epic* stories out there.
31 Queer Fantasy/Sci-fi Books
WITH ROMANCES WE CAN'T GET OVER
1. Dark Rise by C. S. Pacat
Sixteen-year-old dock boy Will is on the run, pursued by the men who killed his mother. Then an old servant tells him of his destiny to fight beside the Stewards, who have sworn to protect humanity if the Dark King ever returns. Will is thrust into a world of magic, where he starts training for a vital role in the oncoming battle against the Dark.
As London is threatened and old enmities are awakened, Will must stand with the last heroes of the Light to prevent the fate that destroyed their world from returning to destroy his own.
2. Crier's War by Nina Varela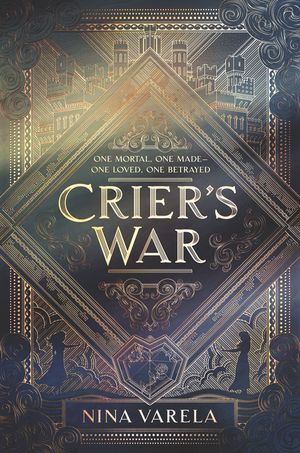 After the War of Kinds ravaged the kingdom of Rabu, the Automae, designed to be the playthings of royals, usurped their owners' estates and bent the human race to their will.
Now Ayla, a human servant rising in the ranks at the House of the Sovereign, dreams of avenging her family's death…by killing the sovereign's daughter, Lady Crier.
Crier was Made to be beautiful, flawless, and to carry on her father's legacy. But that was before her betrothal to the enigmatic Scyre Kinok, before she discovered her father isn't the benevolent king she once admired, and most importantly, before she met Ayla.
Now, with growing human unrest across the land, pressures from a foreign queen, and an evil new leader on the rise, Crier and Ayla find there may be only one path to love: war.
3. Infinity Son by Adam Silvera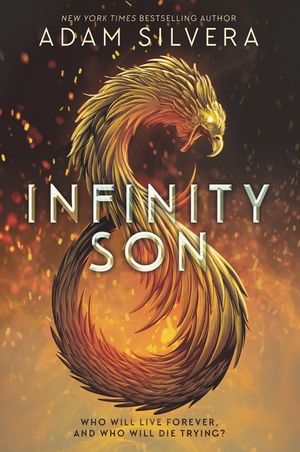 Balancing epic and intensely personal stakes, bestselling author Adam Silvera's Infinity Son is a gritty, fast-paced adventure about two brothers caught up in a magical war generations in the making.
Growing up in New York, brothers Emil and Brighton always idolized the Spell Walkers—a vigilante group sworn to rid the world of specters. While the Spell Walkers and other celestials are born with powers, specters take them, violently stealing the essence of endangered magical creatures.
Brighton wishes he had a power so he could join the fray. Emil just wants the fighting to stop. The cycle of violence has taken a toll, making it harder for anyone with a power to live peacefully and openly. In this climate of fear, a gang of specters has been growing bolder by the day.
Then, in a brawl after a protest, Emil manifests a power of his own—one that puts him right at the heart of the conflict and sets him up to be the heroic Spell Walker Brighton always wanted to be.
Brotherhood, love, and loyalty will be put to the test, and no one will escape the fight unscathed.
4. The Darkness Outside Us by Eliot Schrefer
Two boys, alone in space. Sworn enemies sent on the same rescue mission.
Ambrose wakes up on the Coordinated Endeavor with no memory of a launch. There's more that doesn't add up: evidence indicates strangers have been on board, the ship's operating system is voiced by his mother, and his handsome, brooding shipmate has barricaded himself away. But nothing will stop Ambrose from making his mission succeed—not when he's rescuing his own sister.
In order to survive the ship's secrets, Ambrose and Kodiak will need to work together and learn to trust each other . . . especially once they discover what they are truly up against. Love might be the only way to survive.
5. Before We Disappear by Shaun David Hutchinson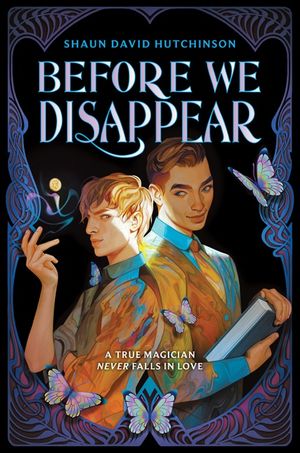 Jack Nevin's clever trickery and moral flexibility make him the perfect assistant to the Enchantress, one of the most well-known stage magicians in turn-of-the-nineteenth-century Europe. Without Jack's steady supply of stolen tricks, the Enchantress's fame would have burned out long ago.
But when Jack's thievery catches up to them, they're forced to flee to America to find their fortune. Luckily, the Enchantress is able to arrange a set of sold-out shows at Seattle's Alaska–Yukon–Pacific World's Fair Exposition. She's convinced they're going to rich and famous until a new magician arrives on the scene. Performing tricks that defy the imagination, Laszlo's show overshadows the Enchantress, leaving Jack no choice but to hunt for the secrets to his otherworldly illusions. But what Jack uncovers isn't at all what he expected.
Behind Laszlo's tricks is Wilhelm—a boy that can seemingly perform real magic. Jack and Wilhelm have an instant connection, and as the rivalry between the Enchantress and Laszlo grows, so too does Jack and Wilhelm's affection. But can Jack choose between the woman who gave him a life and the boy who is offering him everything?
6. Carry On by Rainbow Rowell
Simon Snow is the worst Chosen One who's ever been chosen.
That's what his roommate, Baz, says. And Baz might be evil and a vampire and a complete git, but he's probably right.
Half the time, Simon can't even make his wand work, and the other half, he starts something on fire. His mentor's avoiding him, his girlfriend broke up with him, and there's a magic-eating monster running around, wearing Simon's face. Baz would be having a field day with all this, if he were here — it's their last year at the Watford School of Magicks, and Simon's infuriating nemesis didn't even bother to show up.
7. The Fascinators by Andrew Eliopulos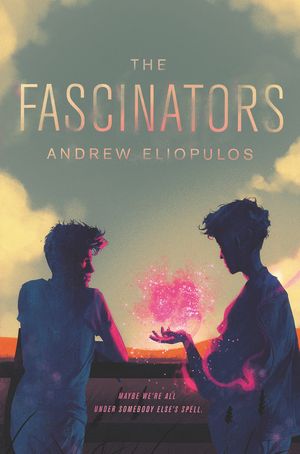 Living in a small town where magic is frowned upon, Sam needs his friends James and Delia—and their time together in their school's magic club—to see him through to graduation.
But as soon as senior year starts, little cracks in their group begin to show. Sam may or may not be in love with James. Delia is growing more frustrated with their amateur magic club. And James reveals that he got mixed up with some sketchy magickers over the summer, putting a target on all their backs.
With so many fault lines threatening to derail his hopes for the year, Sam is forced to face the fact that the very love of magic that brought his group together is now tearing them apart—and there are some problems that no amount of magic can fix.
8. Last Night at the Telegraph Club by Malinda Lo
Seventeen-year-old Lily Hu can't remember exactly when the feeling took root–that desire to look, to move closer, to touch. Whenever it started growing, it definitely bloomed the moment she and Kathleen Miller walked under the flashing neon sign of a lesbian bar called the Telegraph Club. Suddenly everything seemed possible.
But America in 1954 is not a safe place for two girls to fall in love, especially not in Chinatown. Red-Scare paranoia threatens everyone, including Chinese Americans like Lily. With deportation looming over her father–despite his hard-won citizenship–Lily and Kath risk everything to let their love see the light of day.
9. Spellhacker by M.K. England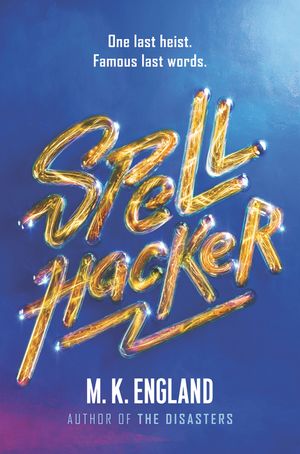 In Kyrkarta, magic—known as maz—was once a freely available natural resource. Then an earthquake released a magical plague, killing thousands and opening the door for a greedy corporation to make maz a commodity that's tightly controlled—and, of course, outrageously expensive.
Which is why Diz and her three best friends run a highly lucrative, highly illegal maz siphoning gig on the side. Their next job is supposed to be their last heist ever.
But when their plan turns up a powerful new strain of maz that (literally) blows up in their faces, they're driven to unravel a conspiracy at the very center of the spellplague—and possibly save the world.
No pressure.
10. Crownchasers by Rebecca Coffindaffer
This explosive first book in a duology jam-packed with tension and thrills is perfect for fans of The Hunger Games, Aurora Rising, and Three Dark Crowns.
Alyssa Farshot has spent her whole life trying to outrun her family legacy, even leaving behind the Kingship and her uncle, the emperor, for a life of exploring.
But when her dying uncle announces a crownchase—a search for the royal seal hidden in the empire that will determine the next ruler—Alyssa is thrust into her greatest, most dangerous adventure yet.
11. These Witches Don't Burn by Isabel Sterling
Hannah's a witch, but not the kind you're thinking of. She's the real deal, an Elemental with the power to control fire, earth, water, and air. But even though she lives in Salem, Massachusetts, her magic is a secret she has to keep to herself. If she's ever caught using it in front of a Reg (read: non-witch), she could lose it. For good. So, Hannah spends most of her time avoiding her ex-girlfriend (and fellow Elemental Witch) Veronica, hanging out with her best friend, and working at the Fly by Night Cauldron selling candles and crystals to tourists, goths, and local Wiccans.
But dealing with her ex is the least of Hannah's concerns when a terrifying blood ritual interrupts the end-of-school-year bonfire. Evidence of dark magic begins to appear all over Salem, and Hannah's sure it's the work of a deadly Blood Witch. The issue is, her coven is less than convinced, forcing Hannah to team up with the last person she wants to see: Veronica.
While the pair attempt to smoke out the Blood Witch at a house party, Hannah meets Morgan, a cute new ballerina in town. But trying to date amid a supernatural crisis is easier said than done, and Hannah will have to test the limits of her power if she's going to save her coven and get the girl, especially when the attacks on Salem's witches become deadlier by the day.
12. Reverie by Ryan La Sala
A few weeks ago, Kane Montgomery was in an accident that robbed him of his memory. The only thing he knows for certain is that the police found him half-dead in the river. The world as he knows it feels different–reality seems different. And when strange things start happening around him, Kane isn't sure where to turn.
And then three of his classmates show up, claiming to be his friends and the only people who can tell him what's truly going on. Kane doesn't know what to believe or who he can trust. But as he and the others are dragged into increasingly fantastical dream worlds drawn from imagination, it becomes clear that there is dark magic at work. Nothing in Kane's life is an accident, and only he can keep the world itself from unraveling.
13. Master of One by Jaida Jones & Dani Bennett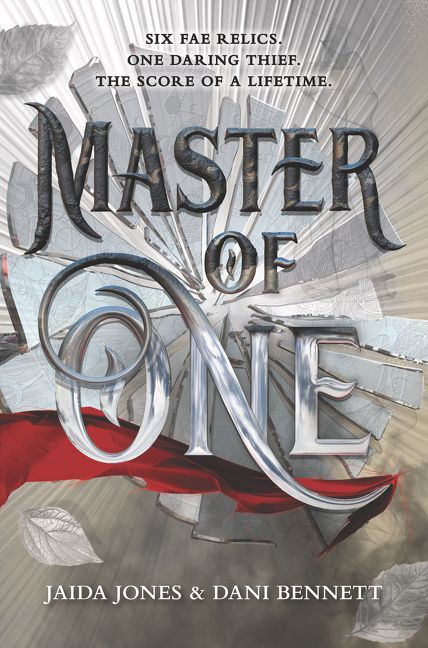 Sinister sorcery. Gallows humor. A queer romance so glorious it could be right out of fae legend itself. Master of One is a fantasy unlike any other.
Rags is a thief—an excellent one. He's stolen into nobles' coffers, picked soldiers' pockets, and even liberated a ring or two off the fingers of passersby. Until he's caught by the Queensguard and forced to find an ancient fae relic for a sadistic royal sorcerer.
But Rags could never have guessed this "relic" would actually be a fae himself—a distractingly handsome, annoyingly perfect, ancient fae prince called Shining Talon. Good thing Rags can think on his toes, because things just get stranger from there…
14. The Gilded Wolves by Roshani Chokshi
No one believes in them. But soon no one will forget them.
It's 1889. The city is on the cusp of industry and power, and the Exposition Universelle has breathed new life into the streets and dredged up ancient secrets. Here, no one keeps tabs on dark truths better than treasure-hunter and wealthy hotelier Séverin Montagnet-Alarie. When the elite, ever-powerful Order of Babel coerces him to help them on a mission, Séverin is offered a treasure that he never imagined: his true inheritance.
To hunt down the ancient artifact the Order seeks, Séverin calls upon a band of unlikely experts: An engineer with a debt to pay. A historian banished from his home. A dancer with a sinister past. And a brother in arms if not blood.
Together, they will join Séverin as he explores the dark, glittering heart of Paris. What they find might change the course of history–but only if they can stay alive.
15. Yesterday is History
Weeks ago, Andre Cobb received a much-needed liver transplant.
He's ready for his life to finally begin, until one night, when he passes out and wakes up somewhere totally unexpected…in 1969, where he connects with a magnetic boy named Michael.
And then, just as suddenly as he arrived, he slips back to present-day Boston, where the family of his donor is waiting to explain that his new liver came with a side effect–the ability to time travel. And they've tasked their youngest son, Blake, with teaching Andre how to use his unexpected new gift.
Andre splits his time bouncing between the past and future. Between Michael and Blake. Michael is everything Andre wishes he could be, and Blake, still reeling from the death of his brother, Andre's donor, keeps him at arm's length despite their obvious attraction to each other.
Torn between two boys, one in the past and one in the present, Andre has to figure out where he belongs–and more importantly who he wants to be–before the consequences of jumping in time catch up to him and change his future for good.
16. Sorcery of Thorns by Margaret Rogerson
All sorcerers are evil. Elisabeth has known that as long as she has known anything. Raised as a foundling in one of Austermeer's Great Libraries, Elisabeth has grown up among the tools of sorcery—magical grimoires that whisper on shelves and rattle beneath iron chains. If provoked, they transform into grotesque monsters of ink and leather. She hopes to become a warden, charged with protecting the kingdom from their power.
Then an act of sabotage releases the library's most dangerous grimoire. Elisabeth's desperate intervention implicates her in the crime, and she is torn from her home to face justice in the capital. With no one to turn to but her sworn enemy, the sorcerer Nathaniel Thorn, and his mysterious demonic servant, she finds herself entangled in a centuries-old conspiracy. Not only could the Great Libraries go up in flames, but the world along with them.
As her alliance with Nathaniel grows stronger, Elisabeth starts to question everything she's been taught—about sorcerers, about the libraries she loves, even about herself. For Elisabeth has a power she has never guessed, and a future she could never have imagined.
17. All of Us with Wings by Michelle Ruiz Keil
Seventeen-year-old Xochi is alone in San Francisco, running from her painful past: the mother who abandoned her, the man who betrayed her. Then one day, she meets Pallas, a precocious twelve-year-old who lives with her rock-star family in one of the city's storybook Victorians. Xochi accepts a position as Pallas's live-in governess and quickly finds her place in their household, which is relaxed and happy despite the band's larger-than-life fame.
But on the night of the Vernal Equinox, as a concert afterparty rages in the house below, Xochi and Pallas accidentally summon a pair of ancient creatures devoted to avenging the wrongs of Xochi's adolescence. She would do anything to preserve her new life, but with the creatures determined to exact vengeance on those who've hurt her, no one is safe—not the family she's chosen, nor the one she left behind.
18. Shatter the Sky by Rebecca Kim Wells
Raised among the ruins of a conquered mountain nation, Maren dreams only of sharing a quiet life with her girlfriend Kaia—until the day Kaia is abducted by the Aurati, prophetic agents of the emperor, and forced to join their ranks. Desperate to save her, Maren hatches a plan to steal one of the emperor's coveted dragons and storm the Aurati stronghold.
If Maren is to have any hope of succeeding, she must become an apprentice to the Aromatory—the emperor's mysterious dragon trainer. But Maren is unprepared for the dangerous secrets she uncovers: rumors of a lost prince, a brewing rebellion, and a prophecy that threatens to shatter the empire itself. Not to mention the strange dreams she's been having about a beast deep underground…
With time running out, can Maren survive long enough to rescue Kaia from impending death? Or could it be that Maren is destined for something greater than she could have ever imagined?
19. Beyond the Black Door by A.M. Strickland
Kamai was warned never to open the black door, but she didn't listen …
Everyone has a soul. Some are beautiful gardens, others are frightening dungeons. Soulwalkers―like Kamai and her mother―can journey into other people's souls while they sleep.
But no matter where Kamai visits, she sees the black door. It follows her into every soul, and her mother has told her to never, ever open it.
When Kamai touches the door, it is warm and beating, like it has a pulse. When she puts her ear to it, she hears her own name whispered from the other side. And when tragedy strikes, Kamai does the unthinkable: she opens the door.
20. The Cerulean by Amy Ewing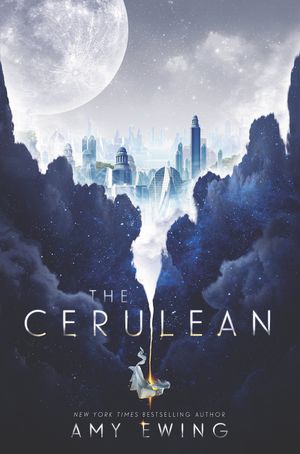 Sera has always felt as if she didn't belong among her people, the Cerulean. She is curious about everything and can't stop questioning her three mothers, her best friend, Leela, and even the High Priestess. Sera has longed for the day when the tether that connects her City Above the Sky to the earthly world below finally severs and sends the Cerulean to a new planet.
But when Sera is chosen as the sacrifice to break the tether, she doesn't know what to feel. To save her City, Sera must throw herself from its edge and end her own life. But something goes wrong and she survives the fall, landing in a place called Kaolin. She has heard tales about the humans there, and soon learns that the dangers her mothers warned her of are real. If Sera has any hope to return to her City, she'll have to find the magic within herself to survive.
21. The Never Tilting World by Rin Chupeco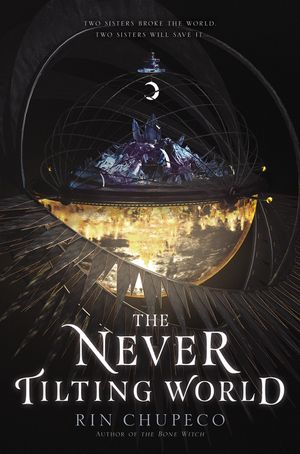 Generations of twin goddesses have long ruled Aeon. But seventeen years ago, one sister's betrayal defied an ancient prophecy and split their world in two. The planet ceased to spin, and a Great Abyss now divides two realms: one cloaked in perpetual night, the other scorched by an unrelenting sun.
While one sister rules Aranth—a frozen city surrounded by a storm-wracked sea —her twin inhabits the sand-locked Golden City. Each goddess has raised a daughter, and each keeps her own secrets about her sister's betrayal.
But when shadowy forces begin to call their daughters, Odessa and Haidee, back to the site of the Breaking, the two young goddesses —along with a powerful healer from Aranth, and a mouthy desert scavenger —set out on separate journeys across treacherous wastelands, desperate to heal their broken world. No matter the sacrifice it demands.
22. We Set the Dark on Fire by Tehlor Kay Mejia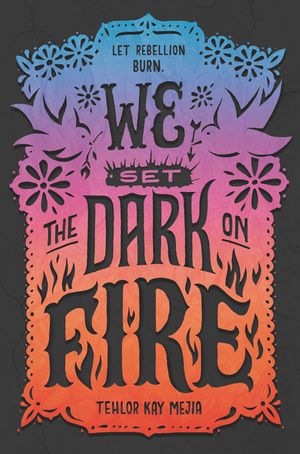 At the Medio School for Girls, distinguished young women are trained for one of two roles in their polarized society. Depending on her specialization, a graduate will one day run a husband's household or raise his children. Both paths promise a life of comfort and luxury, far from the frequent political uprisings of the lower class.
Daniela Vargas is the school's top student, but her pedigree is a lie. She must keep the truth hidden or be sent back to the fringes of society.
And school couldn't prepare her for the difficult choices she must make after graduation, especially when she is asked to spy for a resistance group desperately fighting to bring equality to Medio.
Will Dani cling to the privilege her parents fought to win for her, or will she give up everything she's strived for in pursuit of a free Medio—and a chance at a forbidden love?
23. The Merciful Crow by Margaret Owen
A future chieftain
Fie abides by one rule: look after your own. Her Crow caste of undertakers and mercy-killers takes more abuse than coin, but when they're called to collect royal dead, she's hoping they'll find the payout of a lifetime.
A fugitive prince
When Crown Prince Jasimir turns out to have faked his death, Fie's ready to cut her losses—and perhaps his throat. But he offers a wager that she can't refuse: protect him from a ruthless queen, and he'll protect the Crows when he reigns.
A too-cunning bodyguard
Hawk warrior Tavin has always put Jas's life before his, magically assuming the prince's appearance and shadowing his every step. But what happens when Tavin begins to want something to call his own?
24. Crown of Feathers by Nicki Pau-Preto
I had a sister, once…
In a world ruled by fierce warrior queens, a grand empire was built upon the backs of Phoenix Riders—legendary heroes who soared through the sky on wings of fire—until a war between two sisters ripped it all apart.
I promised her the throne would not come between us.
Sixteen years later, Veronyka is a war orphan who dreams of becoming a Phoenix Rider from the stories of old. After a shocking betrayal from her controlling sister, Veronyka strikes out alone to find the Riders—even if that means disguising herself as a boy to join their ranks.
But it is a fact of life that one must kill or be killed. Rule or be ruled.
Just as Veronyka finally feels like she belongs, her sister turns up and reveals a tangled web of lies between them that will change everything. And meanwhile, the new empire has learned of the Riders' return and intends to destroy them once and for all.
Sometimes the title of queen is given. Sometimes it must be taken.
25. The Red Scrolls of Magic by Cassandra Clare, Wesley Chu
All Magnus Bane wanted was a vacation—a lavish trip across Europe with Alec Lightwood, the Shadowhunter who against all odds is finally his boyfriend. But as soon as the pair settles in Paris, an old friend arrives with news about a demon-worshipping cult called the Crimson Hand that is bent on causing chaos around the world. A cult that was apparently founded by Magnus himself. Years ago. As a joke.
Now Magnus and Alec must race across Europe to track down the Crimson Hand and its elusive new leader before the cult can cause any more damage. As if it wasn't bad enough that their romantic getaway has been sidetracked, demons are now dogging their every step, and it is becoming harder to tell friend from foe. As their quest for answers becomes increasingly dire, Magnus and Alec will have to trust each other more than ever—even if it means revealing the secrets they've both been keeping.
26. Of Fire and Stars by Audrey Coulthurst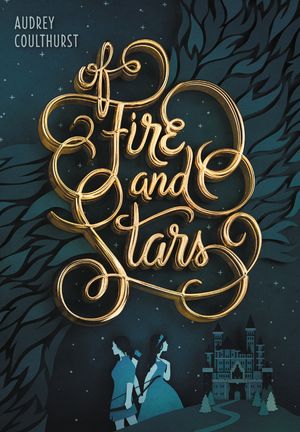 Betrothed since childhood to the prince of Mynaria, Princess Dennaleia has always known what her future holds. Her marriage will seal the alliance between Mynaria and her homeland, protecting her people from other hostile lands. But Denna has a secret. She possesses an Affinity for fire—a dangerous gift for the future queen of a kingdom where magic is forbidden.
Now, Denna must learn the ways of her new home while trying to hide her growing magic. To make matters worse, she must learn to ride Mynaria's formidable warhorses—and her teacher is the person who intimidates her most, the prickly and unconventional Princess Amaranthine—called Mare—the sister of her betrothed.
When a shocking assassination leaves the kingdom reeling, Mare and Denna reluctantly join forces to search for the culprit. As the two become closer, Mare is surprised by Denna's intelligence and bravery, while Denna is drawn to Mare's independent streak. And soon their friendship is threatening to blossom into something more.
But with dangerous conflict brewing that makes the alliance more important than ever, acting on their feelings could be deadly. Forced to choose between their duty and their hearts, Mare and Denna must find a way to save their kingdoms—and each other.
27. Labyrinth Lost by Zoraida Córdova
Alex is a bruja, the most powerful witch in a generation…and she hates magic. At her Deathday celebration, Alex performs a spell to rid herself of her power. But it backfires. Her whole family vanishes into thin air, leaving her alone with Nova, a brujo boy she can't trust. A boy whose intentions are as dark as the strange marks on his skin.
The only way to get her family back is to travel with Nova to Los Lagos, a land in-between, as dark as Limbo and as strange as Wonderland…
28. Wild Beauty by Anna-Marie McLemore
This book is gorgeously written with multiple queer characters represented. This book is a slow read in all the best ways with gorgeous writing. So take your time and enjoy the read.
Love grows such strange things.
For nearly a century, the Nomeolvides women have tended the grounds of La Pradera, the lush estate gardens that enchant guests from around the world. They've also hidden a tragic legacy: if they fall in love too deeply, their lovers vanish. But then, after generations of vanishings, a strange boy appears in the gardens.
The boy is a mystery to Estrella, the Nomeolvides girl who finds him, and to her family, but he's even more a mystery to himself; he knows nothing more about who he is or where he came from than his first name. As Estrella tries to help Fel piece together his unknown past, La Pradera leads them to secrets as dangerous as they are magical in this stunning exploration of love, loss, and family.
29. Girls of Paper and Fire by Natasha Ngan
In this richly developed fantasy, Lei is a member of the Paper caste, the lowest and most persecuted class of people in Ikhara. She lives in a remote village with her father, where the decade-old trauma of watching her mother snatched by royal guards for an unknown fate still haunts her. Now, the guards are back and this time it's Lei they're after — the girl with the golden eyes whose rumored beauty has piqued the king's interest.
Over weeks of training in the opulent but oppressive palace, Lei and eight other girls learns the skills and charm that befit a king's consort. There, she does the unthinkable — she falls in love. Her forbidden romance becomes enmeshed with an explosive plot that threatens her world's entire way of life. Lei, still the wide-eyed country girl at heart, must decide how far she's willing to go for justice and revenge.
30. Outrun the Wind by Elizabeth Tammi
The Huntresses of Artemis must obey two rules: never disobey the goddess, and never fall in love. After being rescued from a harrowing life as an Oracle of Delphi, Kahina is glad to be a part of the Hunt; living among a group of female warriors gives her a chance to reclaim her strength, even while her prophetic powers linger. But when a routine mission goes awry, Kahina breaks the first rule in order to save the legendary huntress Atalanta.
To earn back Artemis's favor, Kahina must complete a dangerous task in the kingdom of Arkadia— where the king's daughter is revealed to be none other than Atalanta. Still reeling from her disastrous quest and her father's insistence on marriage, Atalanta isn't sure what to make of Kahina. As her connection to Atalanta deepens, Kahina finds herself in danger of breaking Artemis' second rule.
She helps Atalanta devise a dangerous game to avoid marriage, and word spreads throughout Greece, attracting suitors willing to tempt fate to go up against Atalanta in a race for her hand. But when the men responsible for both the girls' dark pasts arrive, the game turns deadly.
31. Heart of Iron by Ashley Poston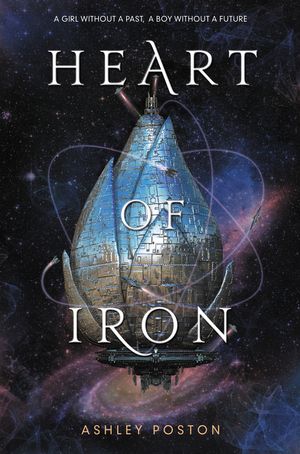 Seventeen-year-old Ana is a scoundrel by nurture and an outlaw by nature. Found as a child drifting through space with a sentient android called D09, Ana was saved by a fearsome space captain and the grizzled crew she now calls family. But D09—one of the last remaining illegal Metals—has been glitching, and Ana will stop at nothing to find a way to fix him.
Ana's desperate effort to save D09 leads her on a quest to steal the coordinates to a lost ship that could offer all the answers. But at the last moment, a spoiled Ironblood boy beats Ana to her prize. He has his own reasons for taking the coordinates, and he doesn't care what he'll sacrifice to keep them.
When everything goes wrong, she and the Ironblood end up as fugitives on the run. Now their entire kingdom is after them—and the coordinates—and not everyone wants them captured alive.
What they find in a lost corner of the universe will change all their lives—and unearth dangerous secrets. But when a darkness from Ana's past returns, she must face an impossible choice: does she protect a kingdom that wants her dead or save the Metal boy she loves?